'Awakening the Walls' in Scary Derry
29.10.18
TENS of thousands of people took to the streets of Derry over the weekend as the city renowned Halloween celebrations began in earnest with a packed programme of events.
Highlights included the start of the 'Awakening the Walls' in the city centre, an animated and illuminated trail around the historic walls featuring over 40 individual attractions and the Samhain Sessions gigs under the Museum of the Moon exhibit in the Guildhall's Main Hall.
The action continues all week with other highlights including the 'Tower of Terror' tour through the Tower Museum, 'Little Horrors' arts, crafts and storytelling in the Guildhall and the 'Hay Bale Sculpture Trail' throughout the district.
The celebrations will peak on Wednesday night with the Return of the Ancients Halloween Street Carnival Parade on Queen's Quay at 7pm and the Fireworks Finale on River Foyle.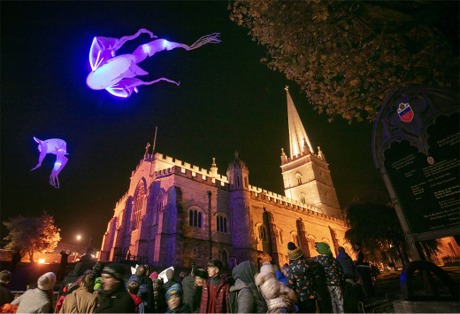 The Les Lumineoles illuminations in the grounds of St Columb's Cathedral as part of the Awakening the Walls trail in Derry's Halloween celebrations.
Mayor of Derry City and Strabane District Council, Councillor John Boyle, hailed the start of the celebrations as a resounding success: "The 2018 celebrations started in some style at the weekend, it was fantastic to see the hordes of people taking in the sights and sounds around the city and it's clear why we are considered the best place in the world to celebrate Halloween," he said,
Events continue throughout the city this week including the Haunted Happenings at Brooke Park on Wednesday from 3pm – 8.30pm where there will be lots of spooky goings on including pumpkin carving and broomstick making.
A limited number of tickets are available for the Samhain Sessions concerts which feature David Kitt and Malojian on Monday, Colm MacIomaire and Elma Orkestra on Tuesday.
TG4 will be broadcasting its Samhain Live show from the Craft Village on Wednesday night with live performances from Declan O'Rourke and Gavin James where entry is on a first come first served basis.
To view more images of the 'Awakening the Walls' click here . For more information on all the Halloween events go to www.derryhalloween.com .