Armistice Day commemoration at Dunree
06.11.18
A COMMEMORATION at Port Bán beach, Dunree on Sunday, 11 November, will be part of Pages of the Sea, Danny Boyle's commission for 14-18 NOW to mark the centenary of Armistice Day.
The event organised by Artlink is an informal, gesture of remembrance for the millions of men and women who left their home shores during the First World War, many never to return.
At Port Bán the art group will unveil a stunning large scale portrait of seaman John Patrick Buckley from County Cork who lost his life, along with over 350 others, on the SS Laurentic after it sank at the mouth of Lough Swilly, in January 1917. It is significant that Port Bán looks out to the site of the tragedy. Built in Belfast, the Laurentic was used by the government to transport gold during the war and sank after she struck mines laid by a German U-Boat. John Patrick's body was never found.
From 2pm - 4pm attendees can get involved in stencilling and have the opportunity to hear some of the poems written by the community and view the artwork created by local school children. A free shuttle bus will run every 20 minutes, from Fort Dunree to the beach. Hot drinks and refreshments will be available from The Coffee Cup at Fort Dunree and Triskele Coffee at Port Bán.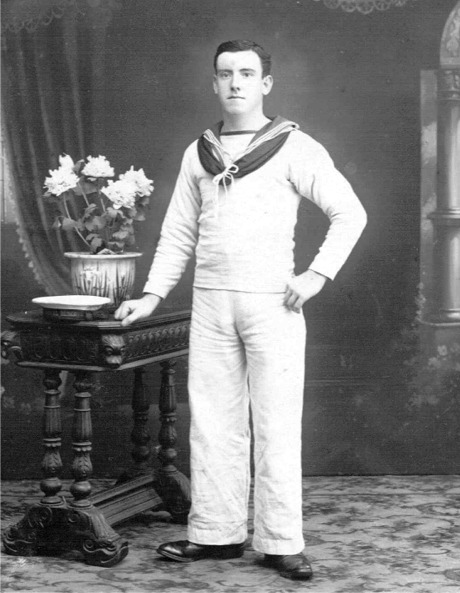 John Patrick Buckley.
Ahead of the commemoration on Sunday, 11th November, Artlink will be hosting several free community events:
- School workshops with local artists on the theme of remembrance will be held on Tuesday 6th and Wednesday 7th November. The schools involved are St Egney's Desertegney, Scoil Ìosagàin and St Oran's PS Cockhill.
- 'Nationalist Veterans in the First World War: the True Story' a talk by Seamus Breslin at Buncrana Community Library will be on Wednesday, 7th November, from 6.30pm - 7.30pm. This is an illuminating talk about the post armistice experiences of all WW1 veterans from the North West of Ireland, but in particular that of the nationalist veterans whose story has seldom been told. It questions the perception that these veterans were shunned by their community, demonstrating that they were well respected throughout the 1920s and 30s, took part in the War of Independence and protested for the rights of disabled war veterans.
- Poetry workshops on the theme of remembrance with author Aileen Mc Gee will take place at Buncrana Community Library on Saturday, 10th November, from 10am - 12pm (for Children) and from 12.15pm - 2.15pm (for Adults).