Inishowen rowan berries attract stunning waxwings
07.02.17
WILDLIFE photographer Christine Cassidy was delighted to snap these beautiful waxwings recently in Inishowen.
Christine, a member of Wild Inishowen, spotted the exotic-looking birds as they feasted on a plentiful supply of rowan berries in Buncrana on the first day of February.
There are traditionally only a few sightings of waxwings in Ireland each winter.
The colourful crested bird is green-listed here while its European population is evaluated as secure.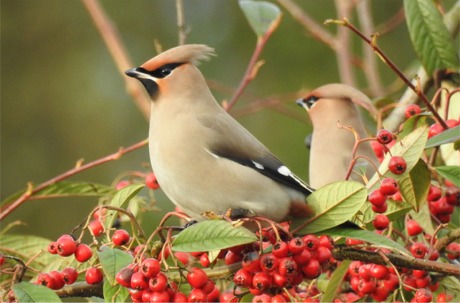 Waxing lyrical: Beautiful waxwing birds feast on rowan berries in Buncrana. Photo: Christine Cassidy.
They breed in Finland, across Siberia and northermost parts of north America and they usually overwinter in southern Scandinavia, according to BirdWatch Ireland.
However, larger numbers visit here every few years when food supplies in their normal winter habitats run out prematurely.
And a drive along Inishowen's hedgerows these past few weeks would seem to suggest that the peninsula has a large supply of rowan berries this season.
Meanwhile, some believe that a large number of waxwings is linked to the onset of cold weather.