Major clean-up operation after severe thunder storms and flooding
23.08.17
A clean-up operation is underway across Inishowen this morning following one of the worst thunder storms and flooding to hit the peninsula in years.
People are counting the cost of the damage to homes, infrastructure and businesses along the border with Derry city also affected.
Among the worst hit areas are Muff, Quigley's Point and Redcastle with many roads closed due to collapsed bridges and flood waters.
Many homes lost electricity while others suffered cuts in their landline and internet services.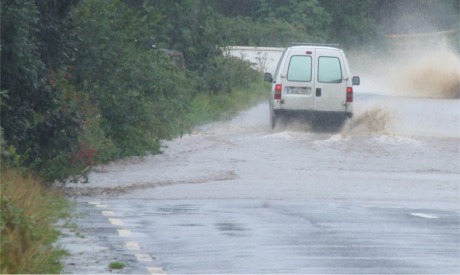 Donegal County Council staff are assessing the damage throughout the area as a major clean-up continues. The council issued the following message in relation to road closures affecting travel today:
The following roads are closed; Gleneely, Glentogher, Rashinney, Cloontagh, North Pole, Quigley's Pt to Muff, Cockhill.
Carn Mountain Road R244 – Closed until further notice
Drumfries to Clonmany - Closed due to bridge failure
Aghilly Road – Closed due to bridge failure
Grainne's Gap – Closed until further notice
Bray Road, Newtown area, closed due to bridge failure.
Slab Road - Closed until further notice due to flooding.
Cockhill Bridge closed – diversions in place via Westbrook, Slavery and Clonbeg
"Please avoid unnecessary travel and take care if travelling," said a spokesperson.