50th Anniversary of iconic St Aengus Church
14.06.17
THE people of Burt and surrounding areas will mark a special milestone later this month with the 50th Anniversary of the iconic St Aengus Church.
The Golden Jubilee will be marked with a Mass of Thanksgiving concelebrated by a number of senior clergy followed by a community gathering and refreshments at St Mary's Hall.
The church was designed by the late Greencastle architect Liam McCormick and was voted Building of the Century at the turn of the Millennium.
It was consecrated on June 25, 1967 and replaced the post-Penal church in Moness which had fallen into disrepair.
In her handbook 'Liam McCormick Seven Donegal Churches: Burt', Carole Pollard described it as his 'most famous building' and the site he selected for construction as 'magnificent'.
Ms Pollard, Royal Institute of the Architects of Ireland (RIAI) president added: "There is no doubt that Grianán is the inspiration behind the circular form of the church at Burt. The idea of a circular church was radical and it had not been attempted in Ireland before.
"McCormick was able to convince [Bishop Farren] that he had the liturgical knowledge and architectural skills to make the circular plan work.
"The Church at Burt nestles gently into the site, its natural stone walls and copper roof blending into the colours of the surrounding landscapes."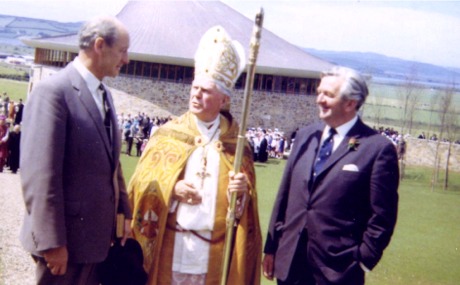 Then Taoiseach Jack Lynch, left, meets architect Liam McCormick and then Bishop of Derry Neil Farren at the opening of St Aengus Church, Burt, on June 25, 1967.
This special anniversary will begin with a Mass of Thanksgiving concelebrated by Bishop of Derry Donal McKeown; Fr Neil McGoldrick PP and Fr Fintan Diggins CC as well as several priests who have previously served in the Fahan, Inch and Burt.
After Mass, refreshments will be served in the nearby St Mary's Hall.
A special commemorative book has been produced for the occasion and will be on sale in the hall.
The St Aengus' Golden Jubilee Committee would like to invite everyone to their Mass of Celebration on Sunday, June 25, 2017, at 3pm. To view more photos click here .