DONEGAL County Council staff are lending their support to this year's Donegal Sports Star Awards of which they are previous recipients.
Jim Doherty (clay pigeon shooting); Shauna Carlin (athlete) and Kevin McHugh (Finn Harps veteran) joined the cathaoirleach and the chief executive this week in promoting this year's ceremony. Cathaoirleach Cllr Terence Slowey said: "The personal achievements of people in sport right across this county are outstanding and we are honoured to have such fine sports people working in the council."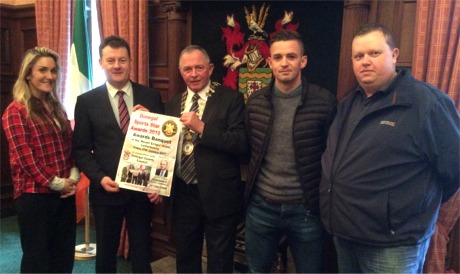 Helping to promote the 41st Donegal Sport Star Awards are former award recipients and Donegal County Council staff Shauna Carlin, Kevin McHugh and Jim Doherty pictured along with chief executive Seamus Neely and cathaoirleach Cllr Terence Slowey.
Chief executive Seamus Neely added: "The Donegal Sports Star Awards have become a highlight in the sports calendar in Donegal and we in the council are delighted to be the exclusive sponsors of the awards. Donegal is a sporting county and sport plays a vital role in communities the length and breadth of the county. I would like to take this opportunity to wish all those nominated for this year's award every success."
The 41st Donegal Sport Star Awards ceremony will take place on Friday, January 27, 2017 in the Mount Errigal Hotel, Letterkenny. Tickets are available at the hotel.