Moville musician on a 'hi' after German tour
31.01.17
A FRIENDSHIP forged over the music of Bob Dylan has led to exciting opportunities for a local musician in Europe.
Moville singer-songwriter Sean Hiboy has just returned from Switzerland and Germany where he supported German artist Michael Moravek.
Guitarist Hiboy first met Moravek during Moville's annual Dylanfest in 2013.
"Michael was playing a great set of Dylan tunes with top class violinist Kerstin Becker in the Sean Ti in Greencastle and we got chatting and he invited me up to play a few songs. We ended up playing the 2014 festival as a duo and have been friends ever since," he said.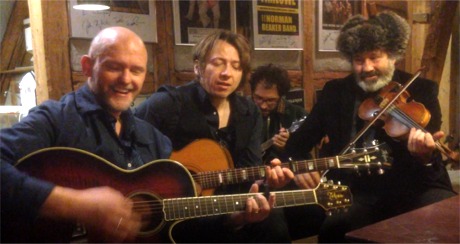 From left, Sean Hiboy, Michael Moravek, Lucas Prague and Steve Wickham play a set as part of Moravek's solo album tour of Germany.
Moravek has been described by critics as "one of the most creative artists" on the German circuit with his recent tour in support of his first solo album 'In Transit (Is What We Are)'.
Hiboy opened each concert nightly with a highly-charged and warmly-received set of original songs before joining Moravek's band Planeausters as mandolin player.
"One of the many highlights of the tour was playing with The Waterboy's fiddler Steve Wickham who guests on two tracks on Moravek's album.
"Michael first introduced me to Steve backstage after a brilliant Waterboy's gig in Galway a while back so it was great to meet up again and get to play together with him and Michael's band who really took Michael's music to another level every night," Hiboy added.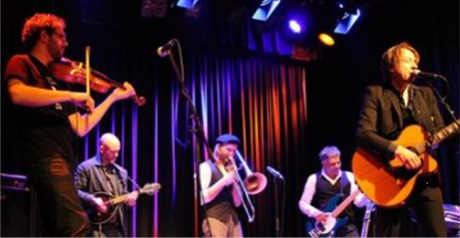 Moville musician Hiboy plays mandolin on stage with Michael Moravek and his band Planeausters.
The local musician, who has previously shared stages with artists such as Glen Hansard and The 4 of Us, has now been invited back this summer by promoters both to perform and record original material for inclusion in his first solo album which he is currently working on.
"As a musician you couldn't ask for more than to be travelling through beautiful countryside playing with great musicians in wonderful venues to audiences who really listened and appreciated every song every night - though we could have done without the freezing conditions. I'm looking forward to going back in the summer and doing it all again," he added.