NW students to attend Road Safe Road Show
09.10.17
Over 3,000 young people from Donegal, Derry and Tyrone will attend this week's Road Safe Road Show in the Aura Leisure Centre Letterkenny.
The Road Safe Road Show is a unique partnership between Donegal County Council and members of the Donegal Road Safety Working Group which provides a platform to positively influence the driving behaviour of young students as they commence their driving careers.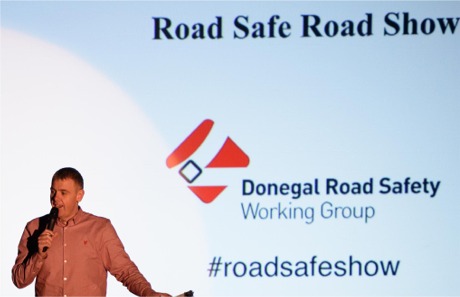 The show will be seen by over 3,000 students from the County's twenty-seven post-primary schools and six Youthreach centres and the show continues to receive excellent support from schools in Northern Ireland with the Police Service of Northern Ireland assisting with the registration of over 900 students to attend from Derry and Tyrone.
"It is a sad fact that almost everyone in this county knows someone who was killed or seriously injured in road traffic collisions in Donegal. This show offers our young people the opportunity to learn about the consequences of poor driving behaviour on our roads. Our hope is that this show will have a positive influence on them and help to keep them safe on our roads in the future", said Brian O'Donnell, road safety officer with Donegal County Council.
To date 118 people have lost their lives as result of a road traffic collision, five of these on Donegal's roads. The Road Safe Show road safety message is being delivered to Donegal, Derry and Tyrone students in the Aura Leisure Centre Letterkenny on Tuesday 10th October at 11.00am and 1.30pm with a further show on Wednesday 11th October at 11.00am.