THE Irish Cancer Society has today announced €100,000 in funding for a major research project that will investigate ways in which cancer survivors can live well after treatment.
The innovative project will be conducted at Letterkenny University Hospital and is funded by the Irish Cancer Society with support from Relay For Life Donegal.
The funds raised by this year's Donegal Relay For Life programme will go towards funding this "hugely important patient-focused research project".
Letterkenny advanced onconoly nurse practitioner Dr Janice Richmond said: "The number of people in Ireland getting cancer is going up but the good news is that more people are living longer after cancer and even being cured.
"This research wants to see if we can improve how people feel both physically and psychologically after they have had cancer. This involves approaching people who have had cancer and who are overweight and asking them to take part in this study so that we can help them improve their health. Being overweight has been shown to negatively affect survival rates following cancer as well as making people feel less well overall."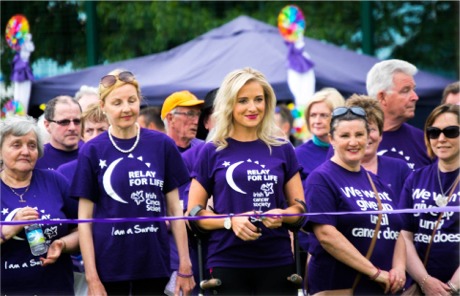 Relay for Life participants get events underway in Donegal. Photo: Mary Conway.
The research will involve 120 participants who will be attending the cancer unit in the hospital. Half of these will be given support and advice to improve their diet and activity levels. They will be compared to another 60 people who will receive the standard follow-up care. A wearable device will be used by all participants to monitor diet, sleep and exercise patterns.
Relay For Life Donegal chairperson Robert O'Connor said: "All of us on the Relay For Life Donegal committee and our supporters in every corner of the county are immensely proud that money raised through Relay For Life Donegal is being used to directly support a new innovative project that originated from researchers at Letterkenny University Hospital." The next Donegal Relay for Life will take place on May 27 and May 28, 2017.