Irish Red Cross lost €250,000 in Donegal floods
15.09.17
THE Irish Red Cross has revealed it lost ambulances and life-saving equipment worth €250,000 in the floods that devastated parts of Co Donegal last month.
The charity's chairman Pat Carey outlined the losses last night at a presentation where €35,000 was handed over to the humanitarian agency to help families affected by the once-in-a-century weather event.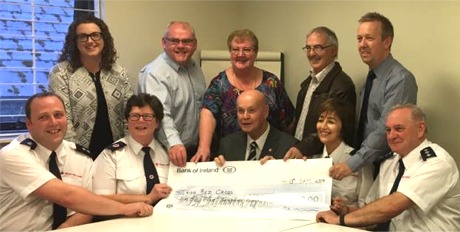 The €35K was the proceeds of a 'Flood Aid' concert organised in the days after the storm which attracted Ireland's top country music performers including Daniel O'Donnell, Nathan Carter and Big Tom.
Speaking at the cheque presentation in Letterkenny, former Fianna Fáil politician Mr Carey congratulated all involved in the concert and said he had never before seen such a strong community response to a disaster.
"Our own Red Cross people suffered (in the floods) as well. Losing the ambulances, losing the building, we estimate that it's about a quarter of a million altogether but it's our job at headquarters to make sure that there will be ambulances on the road, that the building is back in use and that the work won't be interfered with," said Mr Carey.
He was referring to the complete destruction of the Irish Red Cross building as torrential rains swamped the border village of Muff.
He said Donegal Red Cross volunteers had been out helping people every night since the August 22 floods and they would accompany him again on a visit to see for himself the damage caused to homes and property in the worst-hit areas of Inishowen.
The Irish Red Cross chairman also congratulated everyone involved in the unique concert including the Letterkenny businesswoman Deirdre Grant who spearheaded the mammoth effort.
"It was an unbelievable undertaking and a great effort and congratulations to every single one of you, in and out of uniform, for all the work you have done," Mr Carey added.
Meanwhile, Daniel O'Donnell sent a video message from his tour in Canada saying he hoped the concert cash would help people in Inishowen get "back on (their) feet" while the singing legend assured them they were part of a strong community and were "made of good stuff".