Ex-hurricane Ophelia tracks towards Donegal
16.10.17
DONEGAL is on high alert this morning as ex-hurricane Ophelia tracks towards the county.
Winds are already whipping up across the county and people are being urged to stay at home and avoid unnecessary journeys.
"Ophelia is forecast to track directly over Ireland during daytime Monday. Violent and destructive gusts are forecast with all areas at risk and in particular the southwest and south in the morning, and eastern counties in the afternoon.
"Also heavy rain and storm surges along some coasts will result in flooding. There is potential risk to lives," Met Eireann said as part of its status RED alert.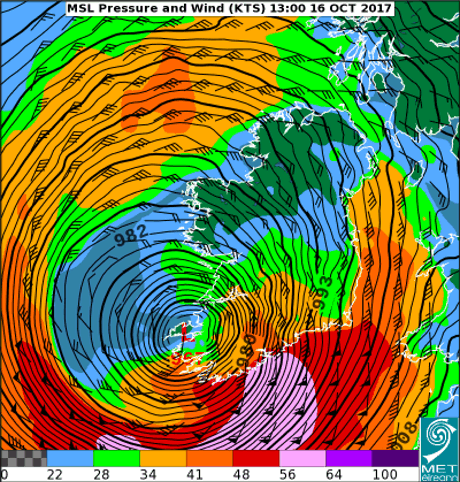 Meanwhile, An Garda Síochána renewed their appeal to all motorists and members of the public to not make any non-essential journeys.
"There should be no cycling and drivers of high-sided vehicles and motorcyclists should also be aware of the extreme danger posed by gale force winds as they are particularly vulnerable.
"People living in coastal areas are also being warned of the risk posed by flooding from storm surge and the Coast Guard is requesting members of the public to avoid any visits or walks to coastal or cliff areas and waterways.
"It is envisaged that there will be significant damage caused by winds, especially in the nature of fallen trees and downed power wires. Please assume that any fallen wires are live and do not approach or touch the wires. Please report any fallen wires to the emergency services," gardaí added.
Further information and updates are available at www.met.ie .