Birdwatchers sail in on first cruise of season
05.05.17
BIRDWATCHERS will get a chance to see the wildlife of Derry and Inishowen when they arrive by cruise ship tomorrow, Saturday.
Noble Caledonia's Ocean Nova ship will sail up the Foyle bringing a group of wildlife lovers on what is the first cruise visit of the season to the region.
Passengers will enjoy a visit to Inch Wildfowl Reserve in Inishowen as part of the trip. They will also get tours of the Walled City as well as the Giant's Causeway.
The 11-day cruise set sail from Oban, Scotland and will also include visits to St Kilda, Iona, Isles of Scilly, Guernsey and Alderney before finishing in Portsmouth.
The Ocean Nova will be the first of three calls from Noble Caledonia this season. A total of nine cruise ships with over 4,000 passengers and crew are scheduled to arrive in the region this summer with leading ocean liner companies including Seabourne, Princess and Silverseas.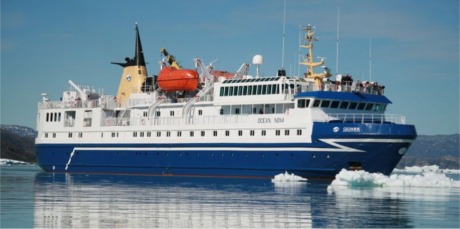 Noble Caledonia's Ocean Nova.
Visit Derry business and leisure tourism officer Aoife McHale said:
"We are delighted the Ocean Nova is returning to the city as our first call of 2017 and look forward to welcoming our passengers ashore this season.
"The city's rich heritage, fascinating history and warm welcome combined with our idyllic location linking Co Donegal and the Wild Atlantic Way with the Causeway Coastal Route is of major interest to the operators and has already resulted in confirmed business for 2018 and 2019," she added.