Donegal firefighters to visit New York
09.02.17
TWENTY firefighters from across Donegal will visit New York in March to take part in the world's largest St Patrick's Day parade.
Eunan Doherty of the Donegal Firefighters Association said the trip is a reciprocal visit after 50 New York firefighters travelled here in April 2016.
"Last year's visit by the New York Firefighters to Donegal was a great success and we want to return the favour by accepting their invitation to visit them in New York over the St Patrick's Day holiday period," he said.
"The twenty Donegal firefighters will be taking time off their work to visit New York and, as well as taking part in the parade, we will be visiting Ground Zero which will be an emotional moment for all of us when we will be remembering those who lost their lives in the 9/11 atrocity as well as those who are still living with the consequences of that fateful day."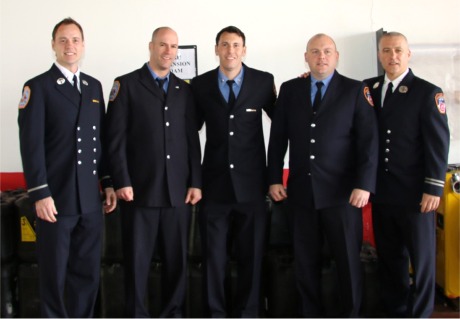 New York firefighters during a visit to Letterkenny Fire Station in April 2016.
The New York firefighters donated a large amount of money to Letterkenny Community Centre and gave a donation to a local autism charity during last year's visit, added Mr Doherty.
He said he and his colleagues "want to do something similar to mirror their wonderful generosity".
"The Donegal Firefighters would like to support the New York Firefighters Burns Centre and the Emerald Isle Immigration Centre and we are currently raising funds to help with this donation. We are selling tickets for a draw with some wonderful prizes.
"As well as that, a number of people from Letterkenny will be hosting a coffee morning on Friday, 10 February, in Trinity Hall in Letterkenny from 10am to 3pm so if you are in Letterkenny, why not call into Trinity Hall for a tea or coffee and support a very worthwhile cause." Raffle tickets are available at fire stations across Donegal or by calling Eunan Doherty at 087 2282671.