NW hit by yet another devastating tragedy
20.03.17
DONEGAL and Derry have been left reeling once again with news of another sudden and tragic death - that of Derry City FC captain Ryan McBride.
The popular Candystripes' skipper passed away at his home in Derry last night at the age of 27.
A post-mortem will take place later today to determine the cause of death.
The young sportsman's passing comes a year to the day of the drowning tragedy that claimed the lives of five members of the McGrotty and Daniels families at Buncrana Pier on March 20, 2016.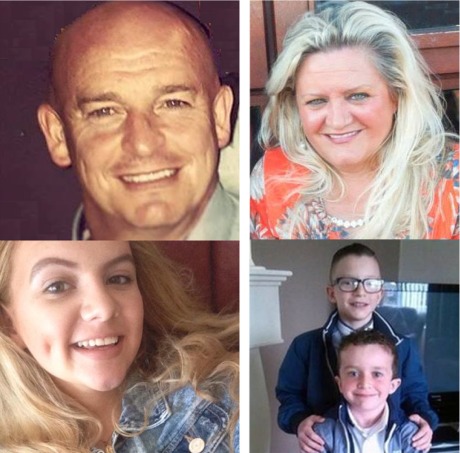 Pier tragedy: Clockwise, Sean McGrotty, Ruth Daniels, Mark and Evan McGrotty, and Jodie Lee Daniels.
The one-year anniversary mass will take place this evening at Holy Family Church, Ballymagroarty, Derry, at 7pm while a fund-raising memorial walk will be held along the Quay from Sainsbury's, Derry, on Friday at 6pm.
As it prepared for the first anniversary, Buncrana was left shocked and grief-stricken following the brutal murder last week of popular local woman Danielle McLaughlin (28) on a beach in Goa, India.
Her remains, accompanied by two of her friends, are expected to be repatriated from the Asian country later this week. A local Indian man was arrested on suspicion of her killing while the community in Buncrana rallied around her heartbroken family.
Danielle McLaughlin
Ryan McBride
Meanwhile, in a statement this morning, Derry City Football Club said it is "deeply saddened" by the untimely death of their captain.
He would be remembered for his "civility and humility" off the pitch and his "commitment and passion" on it.
"Our prayers and thoughts are with his father, Lexie, his sisters Colleen, Siuinin and Caitlain and his partner Mairead who are heartbroken at his loss.
"We are also conscious of his teammates and our management and support staff. Ryan was a player and a great captain but he was also their friend and teammate. They are deeply shocked and will miss his inspiration and his leadership," the club statement said.
The Brandywell club, which has temporarily relocated to Buncrana for this season, also remembered the pier tragedy which claimed the lives of the mother and sister of another of its team members, Joshua Daniels.
It also said it was just a "short time" since the untimely death of its former star striker, Greencastle's Mark Farren (33) after a long-fought cancer battle.