31 families still seek re-housing after floods
06.09.17
DONEGAL County Council is continuing to find alternative housing for families left homeless by the recent floods with 19 of the 50 registered families so far accommodated.
The figure was given in an update from the local authority on the ongoing clean-up operation following the once-in-a-century weather event in Inishowen on August 22.
"To date 50 families have registered with Donegal County Council and at this stage, solutions been found for 19 families. In many of these cases, this is an interim solution until such times as they are in a position to move back to their home. "Some have already moved to their new accommodation, and in other cases arrangements are being finalised or the Council is awaiting responses to offers made. 7 further cases are still to be addressed, and the remaining cases do not required action at this time," the council said.
Meanwhile, updates were also given on damaged roads with the Bailey Bridge at Riverside, Quigley's Point expected to open this afternoon.
"Level differences encountered on site and the structure of the Bailey Bridge has meant that an asphalt approach has to be laid on top of the stone ramp and this essential work must be complete before the road can open."
Work on the R238 at Three Trees between Muff and Quigleys Point is continuing and it is expected that this road will be open to two way traffic later this week.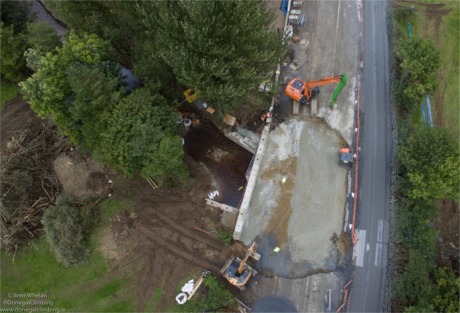 Road works at the R238 Muff to Quigley's Point road on September 04, 2017. Photo courtesy Bren Whelan, @DonegalClimbing.
The R244 at Craignahorna on the Mountain Road between Buncrana and Carndonagh remains closed. It is not feasible to reopen this road in the short term. Local diversions remain in place.
The L-1781-6 Grainne's Gap is now open with a small diversion around Thompsonstown Bridge.
A number of rural roads across the peninsula remain closed and are likely to remain closed for a number of weeks. Local diversions are in place. These roads include the following:
L-1891-2 - Iskaheen Road to chapel
L-1381-2 - Meendacalliagh/Evishbreedy: Illies to Glentoghter
L-53912 – Annagh
L-7451-1 - Drumskillen Road
L-7631-3 - Glenbridge Road
L-7641-1 – Gortcormican
L-7681-1 - Lowertown Road/Gortcormacan
L-7761-2 - Knowhead Road/Calfwarn
Meanwhile, a number of applications for financial assistance have been received by the Irish Red Cross in respect of the Humanitarian Support Scheme which is available for small businesses and community, voluntary and sporting bodies who do not have insurance in place. A maximum of €20,000 is available for applicants under this scheme. For more information on where to find flood assistance, click here .