Inishowen Mica homes 'not safe to live in'
20.12.17
HUNDREDS of families affected by the defective blocks issue in Donegal have been given hope this Christmas with a Government commitment that a redress scheme will be formulated within five months.
Members of the Mica Action Group met Minister Damien English at the Donegal County Council Public Service Centre in Carndonagh this week to discuss the issue. He was reminded of the "untold stress" for hundreds of families created by their housing problems and the "apparent lack of urgency" to help them compared to how Pyrite homeowners were treated in Leinster.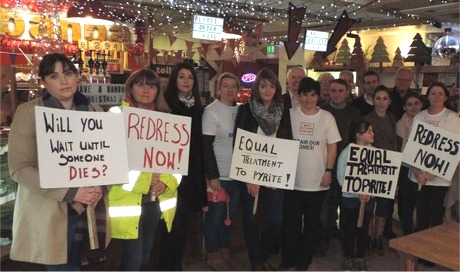 Some of the 400 people who turned out in Carndonagh this week over the defective blocks issue.
Mica Action Group secretary Ann Owens said: "Tonight we had more than 400 people turn up to meet the minister and show him that, even at such short notice, and in the week of Christmas, people are willing to take time to show the minister how important this issue is in the county and we need to see a solution urgently.
"Minister English assured the Mica Action Group and the homeowners present that following implementation of recommendations one and two that the Government will move swiftly to bring a solution to this issue for those affected," she added.
One of those who showed up was young Amy Lafferty who gave Mr English a handwritten letter asking him to 'please help us as I just want our family to be happy again'.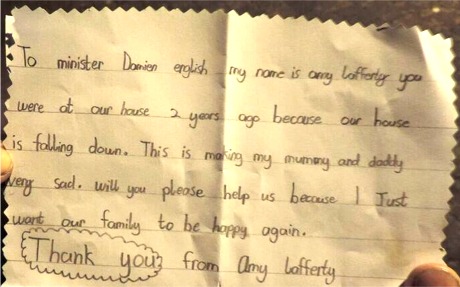 A heartfelt letter written by young Amy Lafferty to Minister Damien English.
Other families such as Tina and Harry Crumlish from Culdaff and Maria Fraser from Buncrana turned up and met the minister personally. Both families have been told that their privately-built homes are no longer safe to live in and they must move out immediately for the safety of them and their families.
Ms Owens added: "We are all frustrated at the pace of progress as, as each week passes, our homes are getting worse. Tonight we felt a real sense of commitment from the minister and are heartened to hopefully see the end in sight."