Mica group says investigation completed
10.02.17
THE Mica Action Group (MAG) confirmed today that the investigation into the issue of defective blocks in counties Donegal and Mayo has been completed.
The report has now been sent for legal proofing.
The confirmation of the conclusion of the probe followed a meeting between MAG and key representatives at the Department of Environment.
MAG said Minister for Housing and Urban Renewal Damien English will, in the interim, be briefed on the report's findings.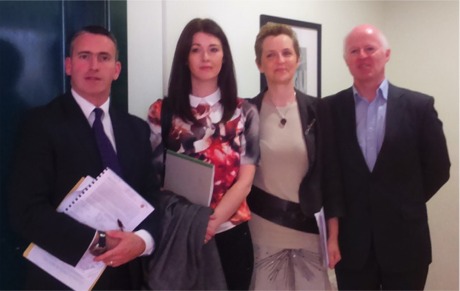 From left, Minister for Housing Damien English; Mica Action Group joint secretaries, Eileen Doherty and Ann Owens and chairman Phil McDaid pictured at a meeting in Carndonagh on June 20, 2016.
MAG secretary Ann Owens said the members were "relieved" that the investigation had finally concluded after a number of delays.
"Whilst these delays were disappointing, we have been assured that the report is the result of a robust piece of work, with real attention to all the facts and figures, including those provided by homeowners," said Ms Owens.
"This report will provide the Department of Environment and Ministers Damien English and Simon Coveney with all the information necessary for them to make a decision on the way forward. We are hopeful that this will include the setting up of a redress scheme for all homeowners affected, which MAG has been calling for, for the last number of years."
MAG understands that the report will be made public in mid-March.
The group said that nearly 500 homeowners have now registered with them and hundreds more confirmed to be affected in social housing, "the number of homeowners and their families affected by this issue of defective blocks used in the construction of their homes, continues to rise," MAG stated.
If you think you are affected please register at www.surveymonkey.com or contact the Mica Action Group on www.facebook.com .