Major plan to manage tourism at Malin Head
13.02.17
DONEGAL County Council is seeking tenders for the development of a Visitor Management Plan for Malin Head.
The local authority said an important part of the process will be "engaging with the local community and other stakeholders".
Tenderers are being asked to ensure that consultation with the local community and key stakeholders is at the heart of the plan.
The aim of the plan is to guide the future development and management of Malin Head - one of 15 Signature Discovery Points on the Wild Atlantic Way stretching from Cork to Donegal. The Visitor Management Plan will target four areas including visitor experience; community benefit; environmental protection and traffic management.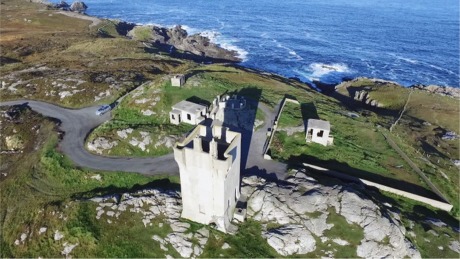 An aerial view of the northernmost tip of Ireland and key Wild Atlantic Way destination, Malin Head.
Council director of service Liam Ward said: "The Wild Atlantic Way has been a great success for Donegal and the western seaboard and it is all about promising the visitor a world class, sustainable and unmissable experience. The essence of the Wild Atlantic Way brand is one of 'wildness' of valuing what is natural and authentic along our coastline and of caring for our landscape, seascape and environment in a way that will protect and preserve it's uniqueness for generations to come."
Mr Ward added: "Malin Head is a special place and is either the first or the last stop on the Wild Atlantic Way depending on the direction of travel. And although minor works to improve access, bus parking and toilet facilities are planned for 2017, other ongoing visitor management opportunities and challenges have been identified at Malin Head which points to the need for a Visitor Management Plan for the area."
Fáilte Ireland will work closely with the council to ensure the agencies "fully maximise" the tourism potential of Malin Head and wider development of the Wild Atlantic Way.
A project steering group comprising representatives from the council, local community and Fáilte Ireland, will also be set up. Tender documents will be available on www.etenders.gov.ie from Thursday, February 16, 2017.