Louise James remembers family with memorial walk
23.03.17
A YOUNG woman who lost five members of her family in a drowning tragedy has urged people to help her "do something positive" to mark the one-year anniversary of the devastating accident.
Louise James who lost her partner, her two sons, her mother and sister at Buncrana Pier, will join friends and supporters tomorrow for the McGrotty/Daniels Memorial Walk in aid of 'The Evan McGrotty Research Fund'.
Ms James' youngest son Evan, who died in the tragedy on March 20, 2016, suffered from Duchenne Muscular Dystrophy.
She said the memorial walk would help raise vital funds for clinical research into the life-limiting condition.
"My youngest son, Evan, was diagnosed with Duchenne Muscular Dystrophy when he was only three years of age. He lived with the condition for the rest of his short life but never let it define him and never let it defeat him," said Ms James.
"The Buncrana tragedy was a devastating event in our lives but I hope to do something positive on its first anniversary and generate some support for the campaign to find a cure for DMD.
"Our family and friends have been raising funds for clinical research into the disease ever since Evan's diagnosis. It's too late to help Evan now, but we can still help other boys who have the same life-limiting condition," Ms James said in a statement released on her behalf last night.
The first anniversary mass took place in Ballymagroarty, Derry, on Monday evening to remember Sean McGrotty, 48; his sons Mark, 12, and Evan, 8; the boys' grandmother Ruth Daniels, 58, and Ms Daniels' daughter Jodie Lee Daniels,14.
They died when Mr McGrotty's 4x4 vehicle slid off the slipway into the water at the end of a day-trip to the seaside in Buncrana.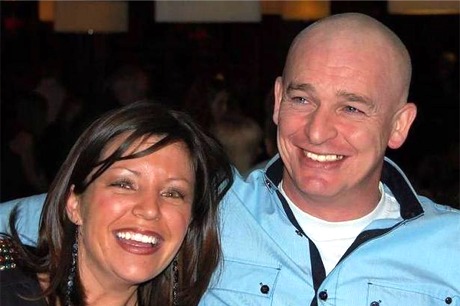 Louise James and Sean McGrotty
The sole survivor of the accident was Ms James' baby daughter, Rioghnach, who was passed by her father to Kerrykeel man Davitt Walsh, who had swum out to the stricken family.
Ms James urged local people to support the memorial walk along Derry's Quay starting at 6pm on Friday, March 24.
"I appeal to the public to join us on Friday evening's memorial walk and support the search for a cure for Duchenne Muscular Dystrophy," she added.