Laurentic disaster remembered 100 years on
19.01.17
THE sinking of the White Star liner SS Laurentic with the loss of 350 lives off the coast of Donegal will be marked next week with the launch of a special exhibition in Derry.
The Mayor of the city Hilary McClintock will join relatives of the crew and members of the public for a special lunch and service of rememberance for the dead ahead of the launch of the unique display, to run for six months at the Tower Museum.
The Laurentic was destroyed by a mine off the coast of Donegal on January 25, 2017. Just an hour before it had stopped off at Buncrana due to a number of cases of illness on board, before making its way back on course to Nova Scotia.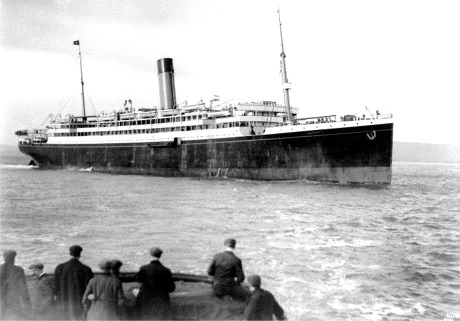 The White Star liner SS Laurentic which sank off the Donegal coast in 1917.
Tragedy struck as the 565ft liner hit two U-boat mines, sinking the vessel and resulting in most of the crew dying from exposure during the bitter cold winter night.
"The sinking of the Laurentic is a significant event in the maritime history of the North West and one which should be documented and remembered," said Cllr McClintock.
"The fact that there are so many memories of the tragedy passed down through families and that artefacts held privately for years have now been loaned to the museum for the exhibition makes its story all the more compelling."
In the days following the disaster, survivors were brought to Derry and cared for by local people before they could be transported home.
All these local stories and connections to the tragedy will now be remembered on the 100 year anniversary of the event. The fact the ship was secretly carrying £300m in gold bullion only adds to the mystique of the ill-fated vessel. More details about the Laurentic exhibition and to reserve a place at Friday's commemorative lunch please contact the Mayor's Office on 048 71376508. Spaces are limited so please book early to avoid disappointment.