History group announces new committee
07.03.17
WEST Inishowen Heritage and History Society (WIH&HS) has unveiled its new committee who will organise and oversee events for the 2017 - 2018 season.
The local history group said it was delighted to announce the new incumbents and thanked all the nominees for taking part in the process.
The new committee are as follows: Ann Hagan - chairperson; John McCarron - vice-chairperson; Andrew Garvey-Williams - treasurer; Mari McLaughlin - secretary; Michael Liam Gorry - public relations officer; John Hegarty - study group co-ordinator; John Deery - deputy study group co-ordinator and Terry Tedstone - creative arts consultant.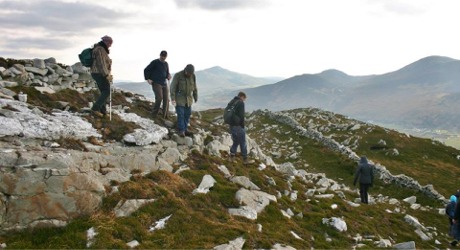 Early medieval monastic research and Binion Hill survey field trip by West Inishowen Heritage and History Society in February 2016. (Photo by Andrew Garvey Williams)
WIH&HS said that of February 28, memberships that had not been renewed have expired.
A spokesperson said: "To renew your membership - which remains €10 for the entire year - or to find out more information about WIH&HS membership, please follow this link to our website: www.buncranahistory.com .