Greencastle Marina on crest of a wave
23.05.17
GREENCASTLE Marina is situated at the heart of the picturesque village of Greencastle on the east coast of Inishowen.
The marina provides "secure and safe berthing" at the mouth of Lough Foyle.
It has become the first marina in the county to receive coveted Blue Flag status by complying with "stringent criteria concerning environmental information and education, environmental management, safety and service facilities, and water quality," according to Donegal County Council.
"With two Blue Flag beaches marking the approach to Greencastle, Stroove and Benone, the Greencastle Marina is a first port of call for yachts coming from Scotland or Northern Ireland.
"Greencastle Marina is a seasonal facility, provided over the Blue Flag season and accommodates resident and visiting yachts, cruise ship tender boats visiting the locality, and occasional angling charter vessels," the local authority said in a statement.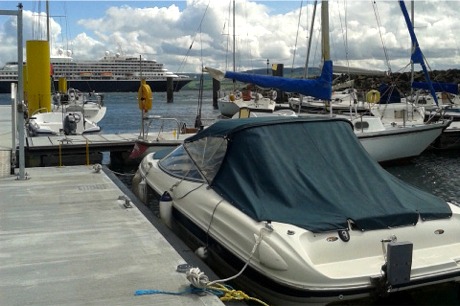 International Blue Flag status for maritime village of Greencastle.
Full access is possible for visitors of all abilities via a gangway landing. A hoist is also permanently available, as necessary, for sailors requiring assistance to and from their boats.
"We are delighted that Greencastle Marina has achieved this international status and this is a clear reflection on the investment made in the marina facilities at Greencastle over the last number of years," said local authority chief, Seamus Neely.
"We all know that achieving Blue Flag status is no easy task. It requires ongoing dedication and commitment from everyone involved and in this regard I would like to pay tribute to the work of my own staff and indeed to the support and commitment of the elected members as well as the co-operation that we get from local communities and voluntary organisations throughout the year."