Cancer survivor golfs his way along Wild Atlantic Way
11.03.17
A CANCER survivor is a 'par-ticularly' unusual sight as he walks the entire west coast of Ireland with a bag of golf clubs on his back.
Englishman Nick Edmund (56) set off from Malin Head this week on his 'crazy' challenge to walk the 2,000km Wild Atlantic Way, playing one hole at forty golf courses en-route.
The qualified barrister and golf writer, is undertaking the gruelling golf-walk to raise money for cancer patients in the west of Ireland.
His mammoth undertaking, for Cancer Care West, is all the more remarkable given that he had a hip replacement only three months ago.
The orthopaedic operation follows a diagnosis of head and neck cancer in 2014. As part of his oncology treatment, the right parotid gland and lymph nodes on the right side of his neck were removed and he was given a 50:50 chance of survival. He had a tumour removed from his forehead last year.
The Devon-born father-of-two, who ran golf legend Nick Faldo's course design business for fifteen years, chose the particularly apt start-date of March 4th in order to 'march-forth' on his long journey. After leaving Malin Head, he pitched up on Tuesday at his first course, the Faldo-designed Ballyliffin Golf Club, where he has been a member for many years. He was cheered on at Glashedy by his long-time friend, club manager John Farren and other members.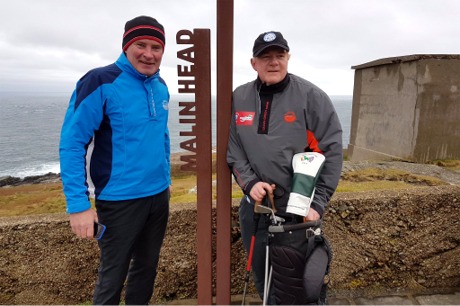 Nick Edmund, right, founder of GlobalGolf4Cancer, pictured at Malin Head at the start of of his Wild Atlantic Way challenge, with Ballyliffin Golf Club manager John Farren.
He then walked on to Buncrana to play the North West at Lisfannon on Wednesday.
The Englishman will suspend his trek in high-summer due to skin cancer concerns and hopes to complete his brave mission in early November.
"It's the start of a walk that will ultimately take me to the Old Head of Kinsale, a 2,000km-plus journey around the west coast of Ireland on the evocatively named Wild Atlantic Way," Nick said in his blog.
"I will have a bag of clubs on my back and I'll be calling into 40 golf clubs en route and playing just their 4th hole. I know it's a slightly crazy, ok make that very crazy, thing for a 56 year-old to do - especially one who had a hip replacement operation as recently as the 5th December and who hasn't done much walking before," he added.
"Am I anxious? For sure. Physically ready? Not exactly. But with 'Godspeed' ringing in my ears, I'm going for it," he added. To follow Nick's journey visit www.twitter.com .