Moville Cottage Market a great success
20.06.17
THE organisers of the first Cottage Market in Moville were surprised and delighted with the success of the recent event in the seaside town.
Scores of people turned up at Moville Community Gardens to buy fresh locally-grown vegetables, home bakes and crafts and to enjoy a fun, sociable day out among friends.
There were cups of tea and coffee aplenty, gardening tips and chats, as well as music provided by popular local musicians.
"It was a great day and everyone was delighted with how the first one turned out. We're looking forward to getting ready for the next market in July," said a spokesperson.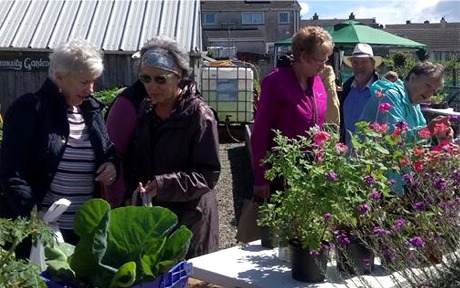 The first Moville Cottage Market on Saturday, June 10, was a great success. The next markets are on Saturday, July 15th and Saturday, August 26th, 2017.
Moville was one of just 20 locations chosen nationwide to host a Cottage Market, an initiative spearheaded by the Grow It Yourself (GIY) movement.
If you missed the first market, there are several more upcoming dates for your diary. These are: Saturday, July 15, 2017 and Saturday, August 26, 2017. The market runs from 11am to 1pm and is located at Moville Community Gardens, near O'Gara Villas, Moville. To view photos from the first market, click here .