Bag a bargain at new Moville Cottage Market
01.06.17
DONEGAL'S first Cottage Market will take place shortly in Moville with homegrown vegetables, tasty bakes and arts & crafts on sale to the public.
The picturesque town on the banks of Lough Foyle was one of just 20 nationwide locations chosen for the unique community venture, spearheaded by the Grow It Yourself (GIY) movement.
Visitors to Moville can look forward to a 'Fair Day' atmosphere on June 10th with healthy vegetables; tasty bakes; garden furniture and refreshments among the many products on sale on the day.
A number of popular local musicians will bring a festival atmosphere to the special event.
The town secured the GIY Cottage Market thanks to the hard work of the group behind Moville Community Garden. The garden, set up seven years ago, is a joint venture between locals, the HSE, Donegal County Council and Moville and District Family Resource Centre.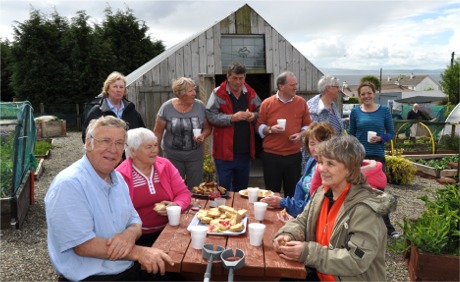 Members of Moville Community Garden take a break as they prepare for their first Cottage Market on Saturday, June 10, 2017.
It gives people the chance to run a small allotment while receiving the health benefits of fresh produce, exercise and social interaction. The garden has been very successful with some 30 raised beds now in operation along with a number of polytunnels, outhouses and picnic benches.
A spokesperson told Inishowen News the group is delighted with the addition of the Cottage Market as a way of offering surplus produce to the community. A total of six markets will be held this summer.
"It will be a platform for people to share their gifts and talents and will be a great day out for all the family," said the spokesperson.
"It's all hands on deck now as we get ready for our first market. The recent spells of hot weather combined with the showers has produced a good early crop."
The market will be held on Saturday, June 10, 2017 at Moville Community Garden. The garden is tucked behind O'Gara Villas - just a five-minute stroll from the town centre. Gate opens at 10am and admission is free. Everyone is welcome. To view more photos click here .