Irish Red Cross distributes €150k from floods fund
24.12.17
The Irish Red Cross is currently distributing €150,000 received in the Donegal Flood Appeal to 70 claimants. Much of this particular tranche of funding was received at a later stage in the appeal and it is being delivered to 58 householders and 12 businesses and community organisations. This distribution is in addition to the €60,000 already distributed in cash grants earlier this year.
The total amount raised in the Donegal Flood Appeal, so far, is €210,000. The fund has been contributed to by the general public, via direct donations, by musicians via proceeds from concerts, by local community and sporting organisations, and by the Boston Donegal diaspora.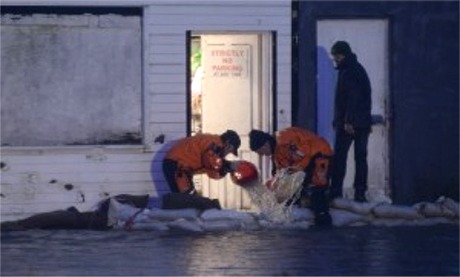 €150,000 from Donegal Floods Appeal is currently being distributed by the Irish Red Cross.
The intention of this scheme is to assist people in their recovery with a contribution from the monies raised. Payments currently being made range from €500 to €4,000 and these funds are for assisting with the replacement of main and general household items, cleaning, decorating, structural repairs as well as replacing damaged equipment in businesses or sports and community organisations.
Applications are being assessed by staff and volunteers in the Irish Red Cross HQ with oversight from an independent charities governance advisor. Feedback on levels of damage in the region has been received from Donegal Area volunteers. The distribution is based on the amount in the fund, the number of applicants and the needs identified. Contact was made with those who organised the fundraising in Boston regarding the approach being adopted before disbursal of funds. As assessments are completed, payments are being made, with over 50% of payments being made before Christmas. The remaining payments will follow in the first week of January 2018.