Inishowen groups awarded €5,000 from ESB windfarms
08.02.17
ESB has awarded €5,000 in grants to four community and voluntary groups in the vicinity of its Crockahenny Wind Farm in Inishowen.
The funding is part of ESB's Wind Farm Community Fund which makes grants available to community and voluntary organisations for projects located in close proximity to their wind farms.
The four projects that received funding in 2016 included Sliabh Sneacht Community and Heritage Centre (€2,200). The grant is to help establish an Active Elderly Group at the premises in Drumfries.
€1,200 was awarded to Illies Community Development Association towards the construction of disabled welfare facilities at its community hall.
Meanwhile, €1,100 was awarded to Wild Inishowen to purchase videography equipment to monitor native and invasive squirrels in Glenard Forest.
And €500 was awarded to Quigley's Point Community Playgroup towards the support of outdoor activities for children in its care.
Colm Grant of Wild Inishowen said: "I would like to thank ESB for the funding received from the Crockahenny Wind Farm Community Fund. The support will allow our group to launch its Red Squirrel Project (in Glenard Forest)."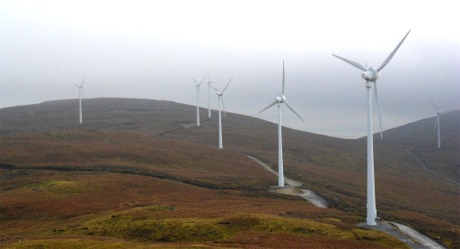 Crockahenny Wind Farm at Ballymagan, Buncrana.
Crockahenny Wind Farm was completed in 1998 and became ESB's first commercially operational wind farm.
It is located approximately 12km east of Buncrana at Ballymagan, and features 10 turbines with a combined generating capacity of 5MW. It can generate enough renewable electricity to power around 3,100 households a year. Its associated community fund was established in 2014 and offers available to groups within 8km of the wind farm a total annual grant value of €5,000.
ESB said it had invested more than €5.5 million in 604 projects across 18 Irish communities living in the vicinity of wind farms in the past six years. For further details on the community funds see WindFarmCommunityFunds.ie .