Danielle's family ask for privacy
15.03.17
THE family of a young Buncrana woman who was tragically murdered in India have today appealed for privacy through a local politician.
Senator Pádraig MacLochlainn made the appeal after visiting the heartbroken family of Danielle McLaughlin.
The 28-year old, who was backpacking in the Asian country, was found dead yesterday morning on a beach in the Canacona area of Goa. Police in the area are reported to have arrested a suspect.
Ms McLaughlin set off on her travels in February. She said goodbye to friends and family with a poignant Facebook post accompanied by a photo of a serene sunset taken where the Crana River meets Lough Swilly at the Stone Jug, Buncrana.
"Thank you to all my friends and family for making home so special and always looking after me. I am very grateful and the luckiest person I know," she wrote.
Danielle McLaughlin.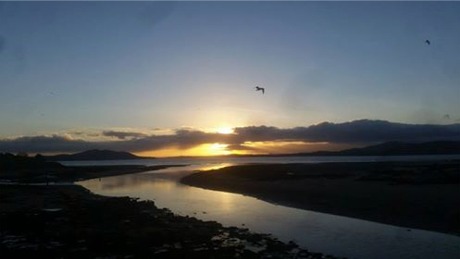 'So special': A beautiful sunset taken in her seaside hometown and posted by Danielle McLaughlin on her Facebook page ahead of her trip to Goa.
Senator MacLochlainn of Sinn Féin, said: "The people of Buncrana and Inishowen are united in grief with the McLaughlin family at the loss of their daughter and sister. This is a tragic loss and Danielle is in all of our thoughts and prayers.
"On meeting with the family earlier, they had one request and that was that their privacy be respected. Media outlets from Ireland and further afield have been bombarding the family with messages and queries and I strongly believe that this is unwarranted and inappropriate at this time.
"The McLaughlin family must be given room and come to terms with their loss and they will come forward when they feel it is time."