Want to run a 'Cottage Market' in Inishowen?
17.02.17
DONEGAL community groups are being invited to apply for start-up funding to set up a 'Cottage Market' in their areas.
The Grow It Yourself (GIY) organisation has just launched a €65,000 fund with a view to getting 20 markets up-and-running nationwide this year.
The aim is to get home-grown vegetables and fruit; home-made food; baking and crafts back on the table.
A Cottage Market differs from a Farmers' Market in that it is "all about bringing hobbyists and amateur producers from a local area together to showcase their often hidden skills and talents in areas such growing, sewing or baking," GIY said.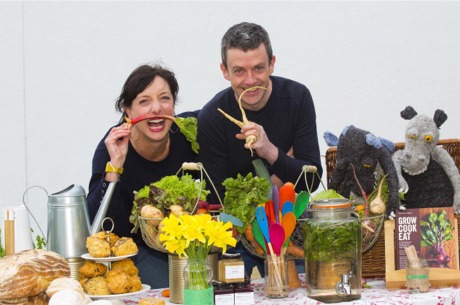 Grow It Yourself (GIY) founder Michael Kelly and community manager Karen O'Donohoe pictured at the launch of the new Cottage Market scheme.
The national roll-out follows a successful pilot phase in Drogheda, Ladysbridge and Headford.
Organisers of any new market in Inishowen or elsewhere, will take part in training to help ensure their market is a long-lasting success.
Social enterprise, marketing, finance and food experts will deliver advice in key areas such as how to set up and run a viable market; how to grow food for the market and how to successfully advertise the new venture.
The GIY grants are being made available in association with The Ireland Funds and Ulster Bank.
GIY community manager Karen O'Donohoe said: "The Cottage Market is a simple but fresh take on community-led markets in villages, towns and cities all over Ireland. We know that this initiative for Cottage Markets across Ireland can be hugely successful."
The deadline for applications is March 3, 2017 and the 20 successful applicants will be selected by March 10. Training will take place on March 25th. Apply online at www.thecottagemarket.ie .