Cash delivery for new dad Martin
09.10.17
Donegal man wins €37,000 including a car on RTE Winning Streak game show.
New dad Martin Johnston from Donegal town got parenthood off to a great start when he scooped €37,000 in prizes, including a new car, on the RTE Winning Streak game show on Saturday night.
Martin (31) wasn't watching Winning Streak when his name was pulled out by Marty Whelan and Sinead Kennedy to appear on the show the previous weekend as he was busy looking after his new born baby daughter, Katelyn, who was born on September 24th!
Martin met his wife Ciara in Australia in 2011 while both were travelling and the couple married in April 2016.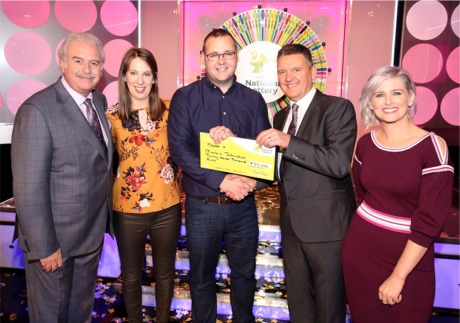 Pictured left to right: Winning Streak game show co-host Marty Whelan; Nicola McNulty, XL McNulty's Orchord Park, Drumrooske, Martin Johnston the winning recipient, Fergus Roche, National Lottery and Sinead Kennedy, Winning Streak game show co-host.
A large entourage travelled to the RTE studios to support Martin last Saturday including his mum and dad, Kathleen and Tony, and his sisters, Fiona and Regina and brother Thomas. He purchased his Winning Streak scratch card at XL McNulty's Orchard Park, Drumrooske, Co Donegal.
Martin is a coach driver for Liam Conneely coach tours in Killybegs and is a keen dart thrower. He plays for the Coach House Bar in Donegal town, who are in the Donegal Dart league.
A total of €232,000 was won by five lucky players on the third Winning Streak show of the new season, presented by Marty Whelan and Sinead Kennedy.