Buncrana mourns teens killed in crash tragedy
01.05.17
FUNERAL arrangements have been released for one of the two teenagers killed in a crash near Quigley's Point at the weekend.
Nathan Dixon Gill (17) from the Backhill, Buncrana, will be laid to rest following requiem mass on Wednesday.
Details have not yet been released for the funeral of Nathan Farrell (18) who also died in the single-vehicle collision on the main Derry to Moville road in the early hours of Saturday.
Three other local teens survived the crash and are being treated in hospitals in Letterkenny, Derry and Belfast.
The shocked and devastated parents of some of the survivors have been reaching out through social media, thanking people for their outpourings of sympathy, prayers and support.
Meanwhile, gardaí are appealing for witnesses to the accident which happened about 3.35am on the approach to Quigley's Point.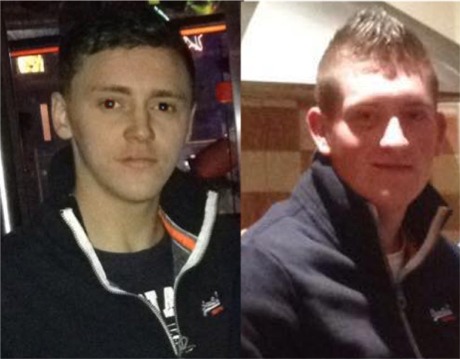 Teenage friends, Nathan Farrell, right and Nathan Dixon Gill from Buncrana who died in a single-vehicle crash near Quigley's Point in the early hours of Saturday, April 29, 2017.
The tragedy occurred as the five pals returned from a nightclub in nearby Redcastle, to their hometown of Buncrana some 35km away.
The road was cordoned off for most of Saturday to facilitate the work of forensic crash investigators.
"Two males in their late teens were fatally injured when the car they were travelling in was involved in a collision. One male was pronounced dead at the scene and the second was taken to Altnagelvin Hospital (Derry) where he was pronounced dead. The three other occupants of the car, males in their late teens, were taken to Altnagelvin and Letterkenny Hospital and are described as being in a stable condition," gardai said in a statement on Saturday.
The latest accident has seen the community of Buncrana once again plunged into tragedy with locals struggling to come to terms with a litany of tragic and untimely deaths of young people in recent months and years.
They include a series of multi-fatal collisions in the early to mid-Noughties; the deaths of eight men in a crash in July 2010; the deaths of a family-of-five in a pier drowning tragedy last year and the recent murder of a young local woman in Goa, India. Local priest, Fr Francis Bradley, who despite being relatively new to the parish, has seen much tragedy since his arrival.
He told the BBC: "Why our little community should make the headlines so often, in terms of tragedy, is difficult to cope with."
For funeral arrangements, click here .