€1.3m pontoon opens at Bunagee Pier
12.06.17
INISHOWEN has netted another marine tourism boost with the opening of a new €1.3m pontoon and breakwater at Bunagee Pier, Culdaff.
The Bunagee Marine Development is a "safe haven" for vessels and includes berthing accommodation for up to 15 vessels at the picturesque pier.
It was developed by Donegal County Council as part of a major cross-border and transnational project known as Sail West. It involved 21 partners from Ireland, Northern Ireland and the West Coast of Scotland.
The sun shone on Friday afternoon for the official opening of the project by Minister of State for the Diaspora and International Development Joe McHugh.
More than 100 people gathered along the pier and the new pontoon to celebrate its official opening. The cutting of the tape comes shortly after the awarding of a coveted Blue Flag at Greencastle Marina.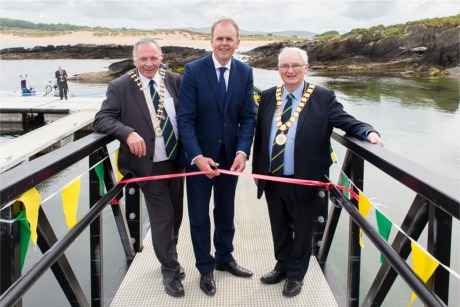 Minister of State Joe McHugh cuts the tape at the new Bunagee Marine Development along with Inishowen district chairman Cllr Bernard McGuinness, right, and Donegal County Council cathaoirleach Cllr Terence Slowey.
Inishowen Municipal District chairman and proud Culdaff man Cllr Bernard McGuinness said the special day had been a long time coming.
He spoke about the history of Bunagee Pier and what it meant to the local community, particularly the local fishermen. The local publican acknowledged the work done by the Department of the Marine in upgrading the new pier facilities which have been warmly welcomed by the local fishermen.
The EU-funded project was constructed by Deane Public Works along with Doran Consulting engineers.
Donegal County Council cathaoirleach Cllr Terence Slowey said: "This development is situated in one of the most beautiful locations in the country close to the beautiful village of Culdaff and is an ideal base that will give visitors the opportunity to explore the Inishowen peninsula and the entire county."
Minister McHugh referred to the area's strong link with Scotland and the important role played by partners from Scotland in securing funding for the initiative. To view more photos click here .