27 heart attack patients survive after cross border care
23.01.17
TWENTY-SEVEN Donegal people survived a heart attack last year after they received life-saving treatment at a top clinical facility across the border.
The cardiology service at Altnagelvin Hospital, Derry, treated the 27 patients after they presented with ST-Elevation Myocardial infarction condition, or heart attack.
The patients received primary Percutaneous Coronary Intervention (pPCI) services at the acute facility on the outskirts of Derry city.
Donegal man, Donie Cronin, was one of the 27 patients who received the treatment. He believes it saved his life.
"I am very grateful for this life-saving patient service and to all involved in my care. Thankfully I am doing really well now," said Mr Cronin.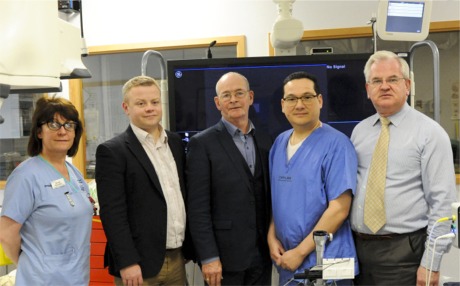 Donegal man Donie Cronin, centre, who was one of the 27 patients who received life-saving coronary care through the new cross-border service.
The first-of-a-kind clinical service began last May with the co-signing of a cross-border service level agreement between the Western Health and Social Care Trust in the North and Saolta University Health Care Group in the Republic.
The agreement makes provision for between 50 and 60 patients per year to receive coronary care at Altnagelvin Hospital.
The Donegal patients were successfully treated and transferred after their procedure by ambulance to Letterkenny University Hospital or Sligo University Hospital.
The unique cross-border service is the result of a review of cardiology services in the North West chaired by HSE Acute Hospitals national clinical advisor Dr Colm Henry and completed in 2013.
A key recommendation was that patients requiring pPCI, who are within 90 minutes road time from Derry, should be transferred by ambulance to Altnagelvin Hospital if their diagnosis recommends pPCI treatment.
Western Health and Social Care Trust clinical lead Dr Albert McNeill said the service offers great benefits to heart attack patients.
"Receiving this treatment as soon as possible improves patient survival and reduces the long term heart damage caused by heart attacks. The clinical service is a good example of how health care organisations and professionals across jurisdictions can work together for the benefit of patients," he said.