300 Donegal bikes donated to African schoolchildren
08.02.17
MORE than 300 bicycles have been donated from all over Donegal to the Letterkenny Rotary Club's annual bicycle appeal for Africa.
The appeal was launched by club last October to coincide with the first national Re-Use month and was supported by Donegal County Council and Bryson Recycling.
Bikes of assorted sizes and standards were handed in at the council's six Recycling Centres in Dungloe, Carndonagh, Letterkenny, Milford, Stranorlar and Laghy late last year. They are now making their way to Loughlan House open prison in Co Cavan where inmates will service the bikes and ensure they are fit for purpose prior to being transported to Gambia. The Donegal bicycles will be used by Gambian children commuting to school.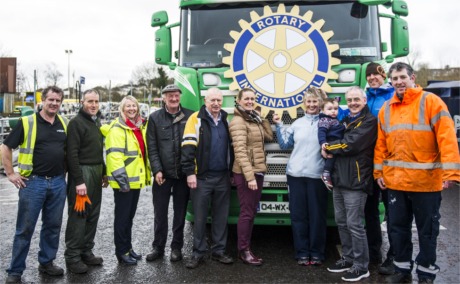 Pictured following the loading of bikes for Africa onto Martin Boyle's haulage truck are members of Letterkenny Rotary Club, staff from Bryson Recycling and Donegal County Council.
"The local drop-off points made the collection so much easier this year for the appeal and while only certain sizes and calibre of bikes are appropriate for the Gambian appeal, all donations are put to good use, be it as spare parts for other bikes or for training purposes," said Hazel Russell of Letterkenny Rotary Club.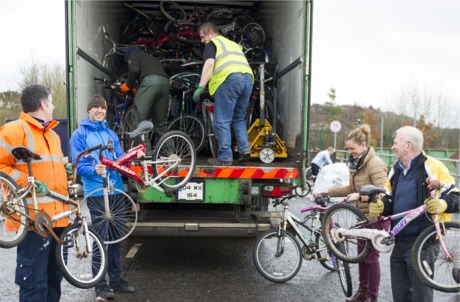 Bikes donated from all over Donegal being loaded up for transportation to Loughlan House open prison where inmates will service them for Gambian schoolchildren in Africa.
Donegal County Council waste awareness officer Suzanne Bogan added: "This was a great initiative to be involved in and it fitted perfectly with the aims and ethos of Re-use month. We were delighted with the opportunity to get involved with the Rotary and this campaign as it was such a positive one and we would like to thank the all those who donated their old bicycles."