'Big Clean Up' gets underway in Inishowen
31.03.17
THE 'Big Donegal Clean Up' gets underway this weekend with local community events in Culdaff and Quigley's Point.
Residents and businesses around the county are being asked to support the campaign by organising clean-ups in their own communities.
On Saturday, April 8, clean-ups are planned for Fahan, Moville and Greencastle and the following day at Ballyliffin beach. A number of clean-ups are also planned on Good Friday including in Carndonagh.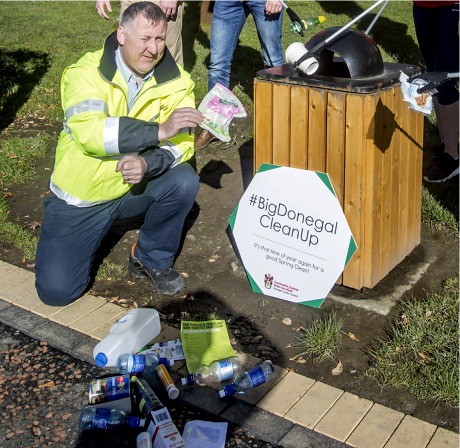 Donegal litter warden Martin Roarty at the launch of the Big Donegal Clean Up 2017.
Donegal County Council litter warden Martin Roarty encouraging everyone to get involved.
"The interest from individuals and communities is brilliant. If everyone gave 30 minutes of their time to take part in a clean-up in their own area, it is amazing what can be achieved.
"Donegal is a large county and unfortunately the council cannot keep the county litter-free on its own. That's why the work of these individuals and groups is so important."
The council is supporting the community clean-ups by providing bags, gloves and litter pickers while arranging for the collection of the bagged rubbish.
To sign up for this year's Big Donegal Clean Up call 074 91 53900 or apply online at www.donegalcoco.ie . You can also register with An Taisce's National Spring Clean campaign by calling (01) 4002219 or online at www.nationalspringclean.org .