Army to build 'Bailey Bridge' at Quigley's Point
31.08.17
A BRIDGE type developed by the British during World War II will be used to open a central roadway washed away by floods in Inishowen.
A convoy of army engineer and transport personnel will help colleagues already on the ground to install an 80ft Bailey Bridge on the road linking Quigley's Point to Carndonagh.
The existing crossing on the R240 road at Riverside, Quigley's Point, was washed away in the once-in-a-century thunder storm that struck north Donegal on August 22. The catastrophic weather event left almost 50 families homeless and damaged some 300 roads in the region.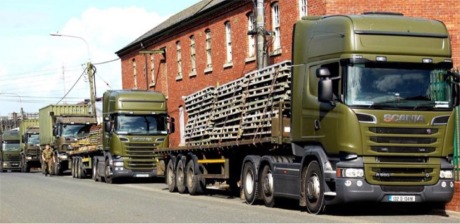 The Defence Forces shared photos on social media of a convoy of military trucks leaving the Defence Forces Training Centre in the Curragh, Kildare, yesterday en route to Finner Camp, south Donegal, before travelling onwards to the affected route.
"The vehicles are carrying an 80ft double single Bailey Bridge with supporting stores which will be used to erect a bridge over an existing river crossing where the culvert has been entirely washed away.
"This will support the local community and local council in responding to the impact of the recent flooding," the army said.
The Bailey Bridge is named after its creator Donald Bailey, a civil servant in the British War Office who created model bridges as a hobby in the early 1940s.
It is a pre-fabricated wood and steel temporary structure prized for its portability and ease of assembly without special tools or heavy equipment.
The bridge was robust enough to carry heavy tanks during the war and are still widely used by civil engineers on construction projects worldwide as well as for temporary pedestrian and vehicle crossings.