Donegal on a mega winning streak
20.10.17
DONEGAL'S "incredible luck" on Winning Streak continues when two people from the county take the famous coveted seats for some big money chances this weekend.
Andy O'Connor from Holly Mount, Carndonagh and Kieran Clarke from Bridge Street, Lifford, were both selected to take part on the show following the appearance of Letterkenny's Anne Sheridan last Saturday.
Anne (63) spun the wheel and took home a whopping €53,000. She plans to get working through her list of things to buy, which includes a new car and phone.
In the week leading up to her appearance on Winning Streak, Anne received a lot of well wishes and prayers from neighbours, family members and friends. Her proud daughter, Aisling, jetted in from Dubai where she works with Emirates Airlines.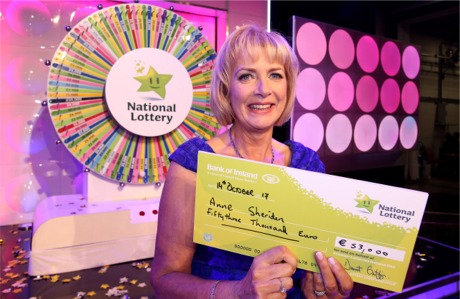 Anne Sheridan from Letterkenny who won €53,000 on last Saturday's National Lottery Winning Streak game show on RTE.
On the show, this remarkable Donegal woman paid tribute to her late husband, Seamus, whom she lost to illness six years ago. Anne met Seamus in England where she lived for 33 years. Anne is also a breast cancer survivor and she is convinced that Seamus is still looking after her and his divine intervention helped to pull her name out of the Winning Streak drum.
Meanwhile, teetotaller Andy from Inishowen is looking forward to stepping it out on the Winning Streak studio this weekend and show off his talent for waltzing and ballroom dancing.
"I don't drink or smoke. My one big pleasure is going dancing with my wife, Margaret, once a week to the Isle of Doagh ballroom in Ballyliffin in the summer time. I love dancing I find it very relaxing and great fun," according to the 59-year-old small farmer from Carndonagh. Their 17 year-old-daughter Maggie occasionally goes along as well.
Andy buys Winning Streak scratch cards every week and sends in three star tickets regularly. But this is the first time he has won anything significant. He was lying on the bed watching the show on Saturday when he heard his name being drawn out.
The Inishowen man plans to do up the house with his winnings and he might treat himself to an extra night dancing to celebrate.
The second Donegal man to appear this week is Kieran Clarke from Lifford. "Getting on Winning Streak might make me Donegal's most eligible bachelor. I am open to all offers!" joked the single 45-year-old.