Information evening for bereaved Inishowen parents
06.10.17
Anam Cara, the national organisation that supports bereaved parents, will host an information evening next week in Buncrana.
The free event is open to all mothers and fathers in Inishowen who have experienced the death of a son or daughter, regardless of the age of the child, the circumstances of the death, or whether the death was recent or not.
Anam Cara has been in operation since 2008. It has ten active groups meeting monthly across the country, supporting some 1,800 bereaved parents annually. A group meets in the Mount Errigal Hotel in Letterkenny on the second Thursday of each month, but this is the first time they will hold an event in Inishowen.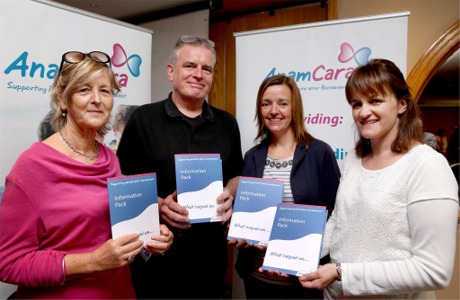 The Donegal launch of Anam Cara information pack. Pictured are Anam Cara volunteer Maeve McHardy, Dr Gerry Lane, consultant in emergency medicine at Letterkenny University Hospital, Anam Cara professional co-facilitator Stella McCole and volunteer Ciara Murphy.
The event, funded by Túsla, will take place on Wednesday evening and will begin with a talk by Brid Carroll, a professional with Donegal connections and extensive experience of supporting bereaved parents and their families.
After the short talk there will be an opportunity to speak to other bereaved parents over a cup of tea or coffee, or to speak to the professional should you have any questions or concerns.
The Bereavement Information Evening will be held from 7-9pm in the Inishowen Gateway Hotel, Buncrana, on Wednesday, October 18. Registration will start at 6.45pm.
Anam Cara needs to confirm numbers so if attending, or if you have any questions, please email info@anamcara.ie before Tuesday 17th October, text 085 2888 888 or call 01 404 5378.