Donegal lift Pat Callaghan Cup in Boston

28.08.14
Boston Junior A Football Final: Cork v Donegal

Cork... 0-7

Donegal... 1-16

DONEGAL captured the Pat Callaghan Cup for the second time in three years with a comprehensive victory over a battling Cork side. After a tight first half Donegal took control in the second and gradually opened up some distance between the teams. With the half back line in control and a fine performance from Luke Peden after entering the game, Donegal had platform for a victory with plenty of room to spare in the end.
It was an evenly contested opening period. Cork got off to a three point start, the first from Mick Lyons followed by two from Mike Moynihan. Donegal opened their account nine minutes in with a Christy McLaughlin point. Pauric McLaughlin and Dean Kelly points brought Donegal level. There were great saves at either end as Mike Moynihan came close for Cork only to be stopped by Jonathan Byrne, and Christy McLaughlin had a close range shot well saved by Kieran Reid. The teams traded points for the remainder of the half, Darren Green stole forward from centre back to put one over the bar for Donegal and give his side a lift. Christy McLaughlin put the odd one over the bar to provide Donegal with a slight edge going into the break.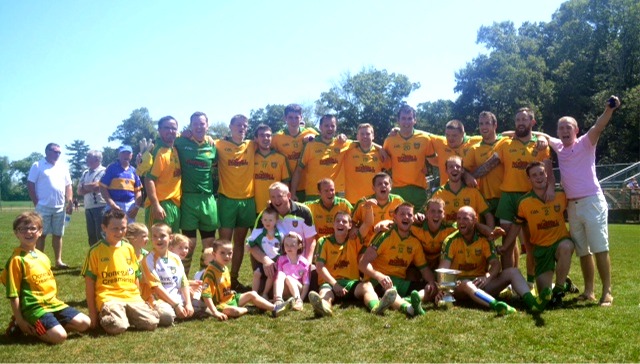 The Donegal team.
Donegal asserted themselves on the game in the second period and limited Cork to a solitary point for the entire 30 minutes. With Cork having a difficult time moving the ball into scoring positions, or winning much of the breaking ball around the middle of the field, Donegal opened up a five point lead. Peden had entered the game at wing forward for Donegal and made an immediate impact. Peden's speed when in possession was a tremendous asset. Reid was required to make another save from McLaughlin to deny Donegal a goal, but the points could not be stopped by the Cork keeper. Grant, Kelly, and McLaughlin put five over the bar between them before John Crowley got Cork back on track with a point fifteen minutes into the half.
With ten minutes to go Donegal held a solid looking six point lead. Dean Kelly had moved to the middle of the field and took over marking duties of Niall O'Connor who had looked as though he might be starting to bring Cork back into the game – although by that stage a goal to even two would be required to bring the Rebels back into contention. Cork's chances were well and truly extinguished after Thomas Caldwell put seven between the teams before Owen Grant was pulled down in the box and Donegal won a penalty. McLaughlin took it well and hit the bottom right corner. Donegal looking impressive entering the North American Finals this weekend where they will face the winners of the Western division or Charlotte tie and will be hoping to return the Junior A cup to Boston following Wolfe Tones victory in Cleveland last season.

Donegal: Jonathan Byrne (Malin), Declan McBride (Downings), Sean Doherty (Urris), Darren Doherty (Malin), Darren Green (Downings), Hugh Devine (Lifford), Tom Caldwell (Galway), Mark Dunphy, Ciaran McDevitt, Owen Grant (Naomh Muire), Pauric McLaughlin (Buncrana), Dean Kelly (Urris), Christopher McLaughlin (Malin) Sub: Brian Kelly (Urris), Paddy McLaughlin Wanish (Buncrana), Barney Friel (Urris), Christopher Rush, Luke Peden (St.Johns, Antrim) Conor Connolly (Castlederg, Tyrone) Managers: Gareth Ruddy (Carndonagh), Paul Martin McDaid (Malin).

Cork: Kieran Reid, Eoin Barry, Mike Carolan, Colm Caffrey, Dan O'Regan, Darren O'Donovan, Niall O'Connor, Mick Lyons, Shea Leonard, Mike Moynihan, John Crowley, Lar Barden, Cian Clifford. Subs: Mike Maye, Downey Brogan.

Meanwhile...

Junior B Football Final: Donegal v Shannon Blues
Shannon Blues 1-11 Donegal 2-5

A young Shannon Blues team captured the junior B championship in convincing style on Saturday evening. Donegal battled to stay in the game, but a last minute goal came a little too late to provide any realistic hope of pulling off a comeback. The Blues proved to be that bit fitter and stronger and remain unbeaten at this level for the season.