Buncrana clinch 'humdinger' hurling final

1

3.06.14
Buncrana... 5-04

St Eunan's... 4-02

SPECTATORS in Convoy's Centre of Excellence for the county 'A' hurling final were treated to fine weather, fine drama and great commitment from all 30 plus players. Buncrana won it in the final minute with a goal from Cathal Óg Wilson.
It could so easily have gone the other way. Not thirty seconds earlier a strike from Eunan's excellent Shane O'Donnell had goal written all over it but for high heroics from the Buncrana keeper, Óisín Kelly. The final minute reflected drama from the throw in by referee Hugo Wallace.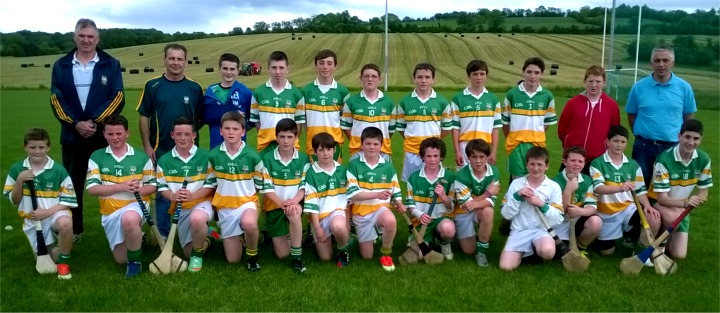 Buncrana U14 hurling team.
Buncrana got the scoreboard ticking with a point from Aaron Craig. Shane O'Donnell got his first of three goals and followed with a couple of points. Aaron Craig on twenty minutes hit the Eunan's net. Niall O'Doherty followed with a point for the Scarvey boys. When Letterkenny's Ethan Doherty rattled the Buncrana goal Eunan's had taken control. The Buncrana mums and dads looked worried. Their sons had swept all before them up till this point. They were League and County Féile champs and favourites to complete the treble. The O'Donnell Park manager Gordon Randles' boys were fighting tooth and claw and led by a goal with half-time beckoning.
Matty Mulholland a touch of class from Inis Eoghain then nets and equalizes . The end of the first half. All square.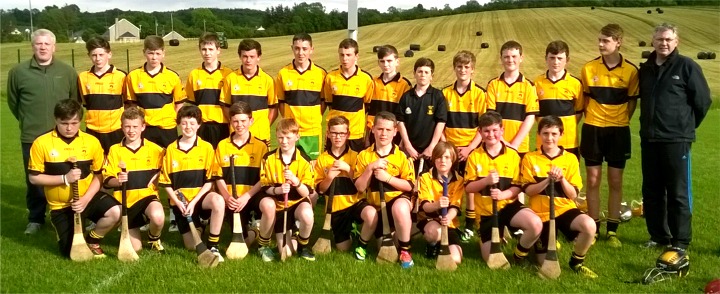 St Eunan U14 hurling team.
Early after the restart Eunan's miss from the penalty spot. Buncrana got another three pointer through Cathal Óg . Eunan's step up to the mark: Shane O'Donnell's two strikes score to the value of six points. The Letterkenny lads were leading by a goal. Niall O'Doherty points a free. The difference is two points. Jason McLaughlin's fine goal leaves Buncrana a point to the good. Eunans attack : wide, wide, save. And again attack, attack, spectacular save. Ryan Hegarty points for Buncrana .
The last sixty seconds will live long in the spectators' memories. Both squads shone. Managers Cathal Wilson and Gordon Randles and their coaching teams have very fine players for the future.
County Minor chairman was lavish in his praise for both teams.
Buncrana's team and squad were: Óisín Kelly, James O'Hagan, John Vaughan, Pauric Doherty, Liam O'Doherty, Matthew Wilson (Capt.), Matthew Mulholland, Niall O'Doherty, Óisín McDaid, Jason McLaughlin, Aaron Craig, Tommy McLaughlin, Gavin Deehan, Anton Cassidy, Cathal Óg Wilson, Ryan Hegarty, Rúairí Doherty, Finn McLaughlin, Matthew Harkin, John Jackson.