Buncrana GAA youngsters Scór big
27.01.14
THE wonderful kids from Buncrana CLG won the Ulster final of Scór Na nÓg in Armagh on Saturday night. The team was the sole representatives of Donegal left in the competition and they did themselves, the town and indeed the country proud!
The Buncrana team were competing in the Léiriú section of the competition with their drama, Iona, based on Saint Columba's arrival on the island. They will now go forward to the All-Ireland finals, which are being held in Castlebar in March.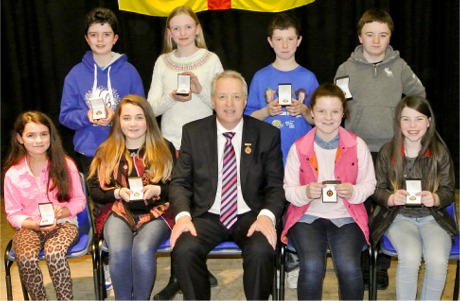 Front row, from left: Shannon Doherty, Annie Powell, Martin McAviney, Ulster GAA president, Emer Grant and Naomi McLaughlin. Back row from left: Liam Coyle, Aoife Lennon, Dylan Cuffe and Adrian McMyler.
Club Scor Officer, Sinead McLaughlin was delighted with the result. "The acting on the night was excellent throughout, with great music, song and dance. The judges said 'it was entertaining from start to finish' and I totally agree with their judgement. The kids and Patricia put in a great deal of work preparing for this competition and I'm so proud of them."
The play was written and directed by Patricia Doherty Tinney and the judges commended her on a truly original and quality presentation. Mention was also given in the adjudication to the tin whistle playing of Noeleen Doherty which helped portray the dramatic effect in the story.
This is a great achievement for Buncrana GAA as the club is relatively new to participating in Scór Na nÓg. The club and the team are looking forward now to the national final and hope to take an All-Ireland of a different kind back home to Donegal!
The winning team are pictured here with Ulster GAA president, Martin McAviney.
*Meanwhile, Buncrana GAA will feature on RTE One's 'Nationwide' this evening at 7pm. The programme includes the local club's participation in last year's Better Together Awards. Buncrana GAA was shortlisted but was unfortunately pipped for first prize. Tonight's programme will feature the Buncrana entry which was considered to be of very high quality and gave a great example of "how deeply rooted and important the club is in the community", said a club spokesman.