Moville win Junior All-Ireland Football 7s Shield

24.09.13
Moville GAA took part in the all-Ireland Junior club 7s competition held traditionally at St Jude's GAA, Templeogue on the Saturday of the all Ireland final. It was the club's third time to enter this competition having been runners up in the shield in 1997 and beaten quarter finalists in 2010. The Moville team was made up of John McGeady, Joe MacBride, Ciaran Diver, Danny Murphy, Enda Faulkner, Oran McDermott, Michael Fiorentini, Seamus Hegarty, Jack Keys and Conor O'Donnell. Senior men's coach Robert Farren and Sean MacBride and Anton Hegarty were also in attendance. Moville were drawn in a group with Blessington (Wicklow), Kiltane GAA (Mayo), Robertstown GAA (Kildare) and Dundrum GAA (Down). The top rwo teams went forward into the cup quarter final and the next two were placed in the shield quarter final. The games were played at ten minutes per half with seven men on the field; substitutes were allowed at any time during the game and the player going on had to pass a baton to the player coming off to allow a substitution. Moville played Blessington in the first game leading 3-02 to 1-02 at half time and winning the match 5-02 to 2-04. Next up were Robertstown with Moville again leading this one at half time 4-01 to 1-04 but Robertstown won the second half and the overall match by a score of 4-09 to Moville's 5-05. Moville were unfortunate to lose their next two group games also, going down by a single point again to Dundrum (4-06 to 4-07) and a very strong Kiltanee team won 9-09 to 2-07.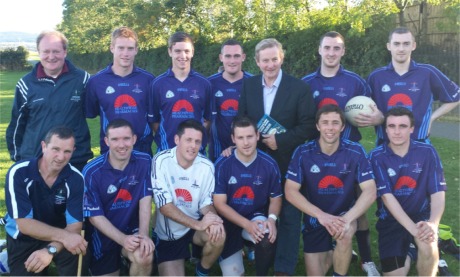 Back Row: Sean MacBride, Enda Faulkner, Ciaran Diver, Oran McDermott, An Taoiseach Enda Kenny, Danny Murphy and Joe MacBride. Front Row: Senior team coach Robert Farren, Conor O'Donnell, John McGeady, Jack Keys, Seamus Hegarty and Michael Fiorentini.
The boys in blue were placed in the shield competition and ran out victorious in the quarter final, defeating last year's winner Clonmore GAA from Offaly by a score of 4-11 to 4-08. This led to fixture against the hosts, St.Jude's GAA (Dublin) where the Donegal side ran out comfortable victors by a score of 4-05 to 1-03. St. James' GAA (Cork) was all that stood between Moville and the all-Ireland shield championship and the Foylesiders dispensed with the Cork side in a very close affair by a score of 2-09 to 2-07 with Oran McDermott clearing the ball off the line in the last second of the game. Thanks must go to Coach Robert Farren and to Sean MacBride and Anton Hegarty who helped out throughout the day. All ten players played a vital part in this victory which was played in very warm conditions and with so many games in the one day left the players exhausted. All-Ireland titles are very difficult to win at any grade and the team should hold their heads high as this historic victory is a very proud day for Moville GAA.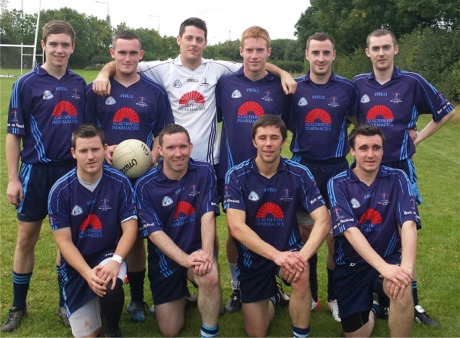 The Moville boys line up before the 7s tournament. Back Row: Ciaran Diver, Oran McDermott, John McGeady, Enda Faulkner, Danny Murphy and Joe MacBride. Front Row: Jack Keys, Conor O'Donnell, Seamus Hegarty and Michael Fiorentini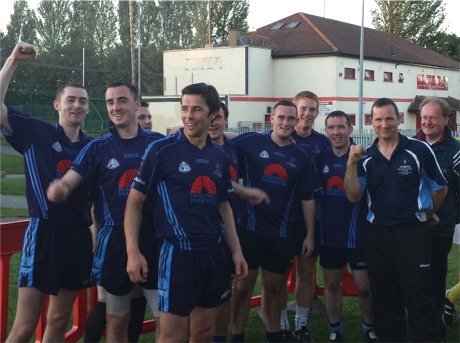 Moville GAA celebrate after winning the all-Ireland shield.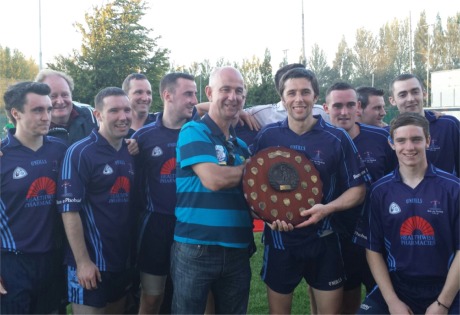 Seamus Hegarty is presented with the All Ireland 7s shield.