A young Moville woman has made history for her judo club by gaining its first black belt.
Kathleen McNaught became Samurai Uladh's first home-grown black belt after a rapid rise through the ranks in the martial arts sport.
Kathleen only started judo five years ago while studying at Moville Comunity College. With hard work and dedication she quickly made it on to the Irish International team and is currently ranked Number 1 in Ireland in the U-63kg category. She has been Irish champion for the past three years.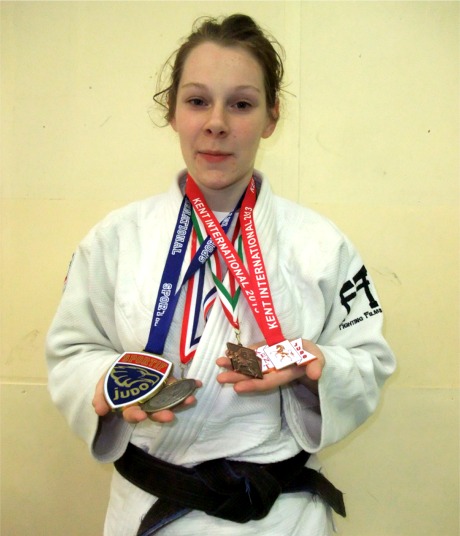 Kathleen McNaught from Moville pictured with some of the international medals she has won this year as a member of Donegal/Derry judo club Samurai Uladh.
She has also had a very successful competitive spell over the past twelve months.
As well as winning the Irish title she has medalled in London, Cardiff, Edinburgh and Birmingham at international tournaments. Her gold medal at the Sportif International in Edinburgh was "the pick of the bunch".
"I have been pinching myself ever since I got it. It is a surreal experience. I never imagined that I would become an Irish international player when I started judo. To push on from that and and win international medals and now to gain my black belt is simply fantastic. I am over the moon!," she beamed.
"I would like to thank all my coaches and training partners at Samurai Uladh for helping me along the way. Our club is very strong and there are some extremely talented young judo players coming through. I feel privileged to be the first black belt in the club but I definitely wont be the last!," she added.
Samurai Uladh is based in Burnfoot and Derry. Ladies coach Donna Nash added: "I am delighted for Kathleen. She thoroughly deserves her black belt. She has a superb attitude and is a great role-model within the club.
"The fact that the club's first black belt is a female is also a great boost for all the girls in the club. I have no doubt that Kathleen will be the first of many!"
The club is always looking for new members. Training times and details can be found on the club's website at www.samuraiuladhjudo.org .