Powerful pro debut for boxer Hutchinson
21.08.12
BUNCRANA boxer John Hutchinson got his professional boxing career off to a flying start on Friday night in front of a packed house at the Royal Theatre in Castlebar. He overcame the tough and experienced local favourite Darren Cruise to chalk up a six round victory on points with the entire crowd of spectators cheering him on.
The 'Buncrana Banger' was making his debut at the age of 26 and a number of question marks arose regarding Hutchinson's ability to cut the mustard in the pro game against the more experienced Roscommon fighter. But he answered all the questions in the ring and had the members of the press from the national media raving about his gutsy performance.
Cruise, a former SKY Sports Prizefighter contestant, who usually campaigns at super-middleweight was the naturally bigger man in the ring, sprung out of the blocks and attacked his debuting opponent from the first bell.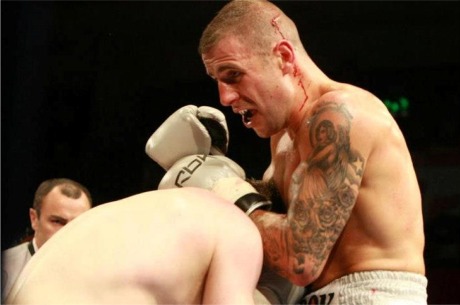 Buncrana's John Hutchinson in action against Darren Cruise at the Royal Theatre, Castlebar, Co Mayo.
As the fight progressed Hutchinson settled into a rythym and connected with a number of meaty uppercuts that rocked Cruise. But the Castlerea-based boxer dug in to tie the debutant up and began to wrestle in an attempt unsettle Hutchinson.
With Hutchinson suffering two cuts from head clashes and both fighters breathing heavily in the final rounds Hutchinson took victory on judge Emile Tiedt's scorecard by five rounds to one.
"I knew I was taking on a mammoth task for my first fight by facing a bigger and more experienced guy like Cruise who was Irish champion during his amateur career. But sometimes you got to snatch these opportunities when they come along and I did just that," said Hutchinson after the fight. The Buncrana man is now based at the Breen Gym in Belfast.
"I've a few switches on the side of my head that need to heal but I will be straight back in the gym as soon as possible and working towards my next fight." His next outing will be at the National Stadium, Dublin in October against Belfast's Gerard Healy.