Michelle opens Men's Shed
08.10.12
MICHELLE Doherty gave a big thumbs up to the Men's Shed Carn after cutting the ribbon at the official launch of the project in Carndonagh on Friday.
The DJ, model and actress from Glengad was delighted to travel home to support the project. She said many local men were feeling the financial and emotional effects of the recession particularly since the collapse of the construction sector. She hoped Men's Shed Carn would go "from strength to strength".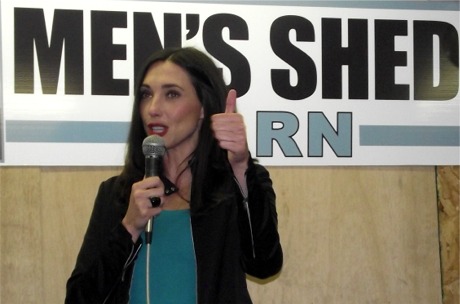 Michelle Doherty gives Men's Shed Carn the thumbs up.
Men's Shed Carn committee member John Gerard Doherty said: "We were overwhelmed by the great turnout on the night with in excess of 200 people turning up. We were delighted that so many people took the time to look around the newly renovated premises and meet some of our members.
"We were also delighted with the very positive response and words of support and encouragement we received from so many people on the night.
"I would also like to take this opportunity to thank so many people who have helped us get to this point, including Inishowen Development Partnership, Ann Owens, Mary Harkin, Carndonagh Co-op and the support received from local businesses," he added.
A number of presentations were made to charities on the night with €1700 presented to the Funny Feet Fund and a further €1700 presented to Our Lady's Children's Hospital, Crumlin. Jim Devenney, from Newtowncunningham, whose granddaughter Megan died in Crumlin last year, stressed the importance of such donations. He said: "I am delighted to accept this cheque on behalf of Our Lady's Children's Hospital, Crumlin. The Men's Shed Carn is a really worthwhile project and it is so kind of the members to think of the children of Ireland and to give so generously."