GAA 1992 legends take on Harps

18.06.12
A UNIQUE football match between Finn Harps FC Legends and the Donegal All Ireland winning team of 1992 will take place for charity later this month.
The event will be held at Finn Park, Ballybofey, in aid of Meningitis Research Foundation (MRF), the Donegal branch of the Alzheimer's Society and the Donegal Hospice.
The match will be followed by a reception at Finnvalley Centre at 10pm sponsored by Donegal Sport Partnership and will include a raffle, jersey auction and live music.
There is no entry fee but all donations will be very welcome.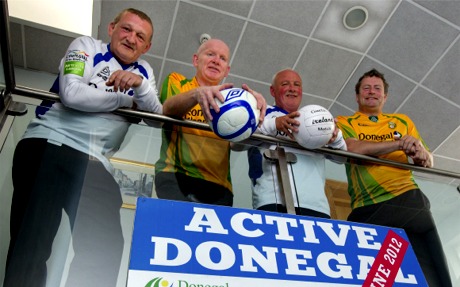 Declan Bonner and Charlie Mulgrew of the Donegal GAA 1992 team and Con McLaughlin and Sean 'Wizard' McGowan of the Finn Harps FC Legends team who will meet at Finn Park later this month.
Finn Harps secretary John Campbell aid: "There are many people close to the club who have had to deal with meningitis and this charity does a fabulous job. It is also great that so many legends of sport in Donegal are taking part in this fundraiser. People can come along and enjoy what will be a fantastic occasion."
Money raised from the event will help MRF continue to fund vital research, raise awareness of the disease with the public and health professionals and support those affected with a freefone helpline.
Diane McConnell of the Meningitis Research Foundation added: "It is only through the generosity and the hard work of the public that the foundation is able to fund research, raise awareness and support those who have already been affected by meningitis and septicaemia."
Meanwhile, the battle of the Donegal sporting greats is sure to attract a huge crowd eager to see how GAA stars like Martin McHugh and Manus Boyle fare against Harps stars like Declan Boyle and Paul Hegarty.
Both managers – Declan Bonner for the Donegal 1992 side and Sean McGowan for Finn Harps – have assembled strong squads and are anticipating a great game.
The match will take place at Finn Park on Wednesday, June 27, at 7.30pm.
For more information on this event please contact Finn Harps FC club on 074 9130070 or John Campbell at 083 3820755.