Hear it in the trees - 'Sam for Donegal'
21.09.12
by Linda McGrory

SSShhh. If you listen close enough, you'll even hear it in the trees - 'Sam for Donegal'. With their green leaves turning gold, wouldn't you just know it, Ireland's trees are supporting Dún na nGall.
And they're not the only ones enjoying a seasonal makeover. Sheep, dogs, the dogs' lampposts, the cat's pyjamas, the cat's mother, the mother's cat. In fact, if you stand still long enough in Donegal these days, you might just have a brush with...the brush.
How excited and proud are we? We have the collective goosebumps. Our goosebumps have goosebumps. Household charge, what's that? Recession, what recession? Jimmy's winning matches and - for this weekend at least - that's all that matters.
All our Christmases have come together. In fact it's just like Christmas on the streets and in the bars of Buncrana, Carn, Moville and Clonmany, as ex-Pats travel home and green and gold bunting billows where fairy lights twinkle in December.
But it's well and truly 'Countdown to Croker' time as the big hand ticks towards throw-in on Sunday at 3.30pm.
It's been announced that Donegal will be unchanged for the final against Mayo, with Buncrana's Ryan Bradley retaining his place in the half-forward line.
The Ballymagan man was battling a shoulder injury and was facing competition to be in the starting line-up.
But he has been central to the team over the past two years and was recently named the GAA/GPA Footballer of the Month for July.
"Ryan has started for us in every game in the championship this year and has been playing well," said Donegal assistant manager Rory Gallagher.
Donegal are going in as favourites to end a 20-year drought for All-Ireland success.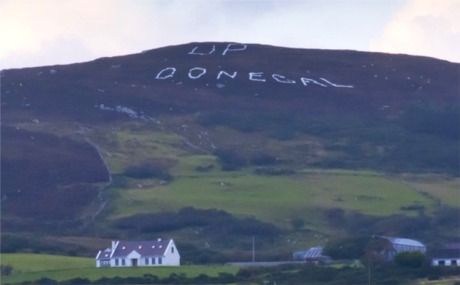 A group of men hauled 12 tonnes of sand-filled bags up Knockbrack Hill in Malin to show their support for the county squad. Photo courtesy Paddy 'Paul' Doherty.
But Jim McGuinness is taking no chances and has highlighted Mayo's strength of performance against reigning champs Dublin in the semi-final, citing their good 'possession, speed and teamwork".
And since Mayo hasn't lifted the cup for 61 years, Donegal - despite only winning Sam once - can't fully claim the benefits of underdog status either.
There are only two certainties - the West is Awake with enthusiastic support from Clare Island to Clonmany, Louisburg to Letterkenny. And, every Irish GAA fan is eagerly awaiting a scintillating showdown on Sunday between two counties that share a great deal in common.
Both teams deserve their big day in Dublin as their many hours, days and months of training in the salty Altantic rain culminate in a 70-minute battle of the braves.
Meanwhile, as thousands of Tír Conaill supporters, bedecked in green and gold, head to Croke Park, thousands more prepare to watch the big match in the county with family and friends in the clubs, bars and Homes of Donegal. A pint of 'McGuinness' anyone?

DONEGAL: P Durcan; P McGrath, N McGee, F McGlynn; A Thompson, K Lacey, E McGee; N Gallagher, R Kavanagh; R Bradley, L McLoone, M McHugh; P McBrearty, M Murphy, C McFadden.

MAYO: D Clarke; K Keane, G Cafferkey, K Higgins; L Keegan, D Vaughan, C Boyle; B Moran, A O'Shea; K McLoughlin, J Doherty, A Dillon; E Varley, C O'Connor, M Conroy.